The Red Fort lawns that remains filled to the brim on Independence Day, saw many vacant seats this year with the attendees wearing masks and maintaining social distancing, displaying an image of the "new normal" in times of the coronavirus pandemic.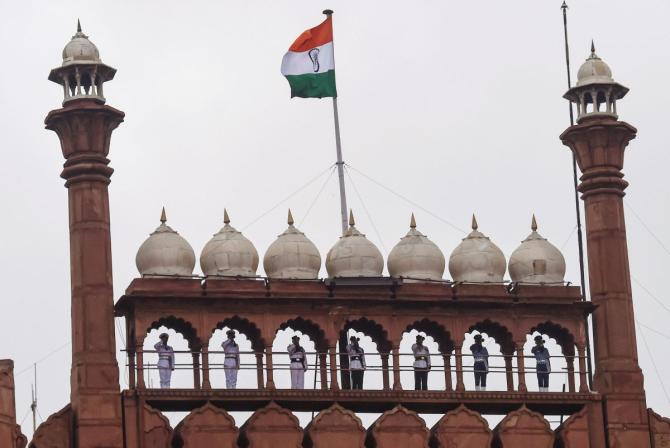 The Independence Day event at the historic Red Fort, where prime minister unfurls the tricolour and delivers a speech to the nation, was scaled down this year. Around 4,000 invites, a quarter of the usual, were issued to officers, diplomats, local leaders and others.
Still, a number of seats across all enclosures remained empty. A security official said they expected that a few seats would remain empty considering the COVID-19 situation.
"The number of invitees was one-fourth the normal. Still, lesser number of people turned up. Adequate arrangements were made to ensure physical distancing and masks, sanitisers and gloves provided to all the attendees," he said.
See: PM Modi greets people at the Red Fort
A kit containing a mask, a small bottle of hand sanitiser and a pair of gloves were kept on all chairs which were positioned at a distance of 6 feet to maintain the prescribed distance. A hand towel was kept on the back rest of the chairs along with the programme pamphlet.