Several parts of Himachal Pradesh, including state capital Shimla, got another bout of snowfall on Monday as about 850 roads across the state remained blocked and disruption of power supply affected normal life.
Several areas remained cut off for the second day running due to heavy snowfall, and power supply was erratic with most parts of Kullu and Manali and several villages in Kinnaur facing black out.
People push a car through the snow covered road Dalhousie in Chamba. Photograph: PTI photo
The restoration work is on to open the roads and over 100 major roads have been opened while 100 out of 850 blocked roads are expected to be opened by Monday night.
The bus services to interior areas of Shimla, Kinnaur, Kullu, Chamba and Sirmaur remained suspended due to snowfall and slippery road conditions.
The erratic power supply added to the woes of the people and Shimla, Solan and some other places faced unannounced power cuts.
Shimla received 30 cm of snow during the past 24 hours while Bhuntar and Bhuntar received 27 cm and 18.2 cm snow.
The Hindustan-Tibet national highway was opened up to Narkanda and efforts were on to clear the snow at Narkanda to open the road for heavy vehicles.
The Shimla-Rohroo road was being opened by clearing heavy snow at Khara-Patthar and vehicular traffic is likely to be resumed from Tuesday.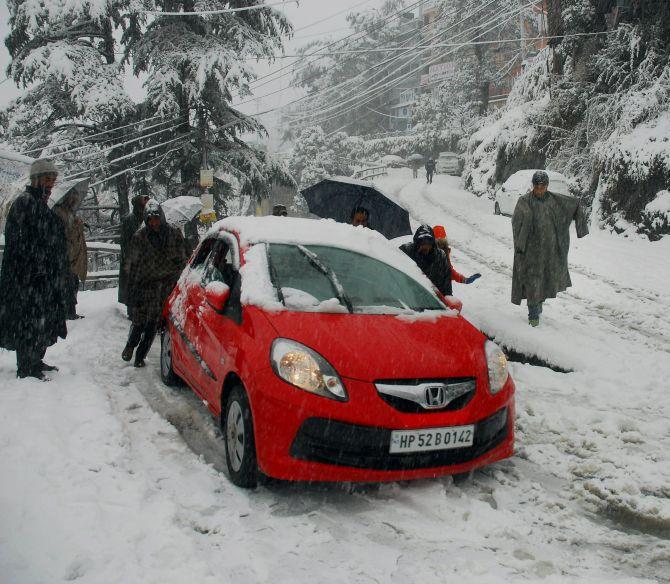 Roads have been blocked after it snowed consecutively for the second day on Monday. Photograph: PTI photo
"Work is going on at a war footing and we hope to open most of the roads by tomorrow evening," said a Public Works Department official monitoring the progress of work.
The weather cleared in the lower areas but mid and higher hills had intermittent rains and light snowfall and day temperatures stayed 10 to 12 degree below normal.
The local meteorological office has predicted light rains or snow in higher hills on Tuesday and dry weather in rest of the state from tomorrow onwards.