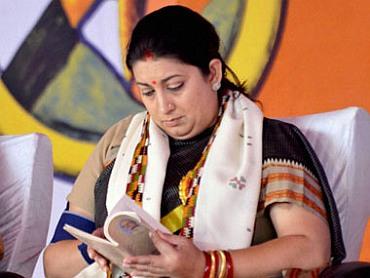 University Grants Commission Member M M Ansari has lashed out at Human Resource Development Minister Smriti Irani, accusing her of "abruptly" discontinuing mid-session teaching of German language in Central schools and said her tenure so far as been "far from satisfactory".
Ansari said he was not bothered about the possible fallout of his open outburst against Irani as "everyone is concerned about the performance of the ministry but nobody is talking about it".
The minister's office refused to comment on his allegations.
Ansari said she has failed to announce a single scheme or measure that will strengthen the education sector or carry out institutional reforms that will impact the quality of education.
"There is excessive interference from the minister in the UGC. All that she has done is announcement of new institutes and scholarship programmes that are discriminatory in nature and will further burden the system facing shortage of faculty and quality.
"Judging by her performance, nothing much is happening... it has been far from satisfactory," he said.
In this context, he recalled a statement by Irani during the row over her educational qualification that the country will judge her by her performance.
Ansari, who had earlier been critical of the way the Ministry directed UGC to rollback the controversial 'four year undergraduate programme' of Delhi University, maintained that a similar stand was taken to discontinue the German programme mid-session.
"You could have done it (to discontinue) but it has to have its own timings," he said, underlining the difficulties faced by students following the decision.
Observing that the fundamental issues confronting the education sector was being overlooked, he said instead of strengthening the institutional framework, new IITs and IIMs were announced, further burdening the system facing shortage of faculty.
"A number of IITs and Central Universities have been announced without operationalising and strengthening the other universities announced in previous years... there is shortage of staff to the extend of 40 to 60 per cent as funds have not been provided by the government," he said.
On the Right To Education front also, he said universalisation of education still remained a distant dream as the poorest of the poor are roaming the streets unable to attend schools.
"One is not bothered girl child not attending schools. This is only for those who attend social science and humanities. The whole scheme is discriminatory. The government is bent upon implementing it."
He said there was interference from the minister in the UGC as well, especially the way it directed the commission on the FYUP issue.
"It is now bent on implementing the Swami Vivekanand scholarship programme for a single girl child (in a family) without addressing the problems thousands of other girls, who are going without education. This is discriminatory," Ansari said.