Scores of people across the country on Monday observed a rare astronomical phenomenon, Mercury's transit of the Sun, that occurs only 13 times in a century as planet Mercury was seen navigating as dot on the
solar disc.
This phenomenon took place when the planet was seen as a small black dot travelling from one limb of the solar disc to the other.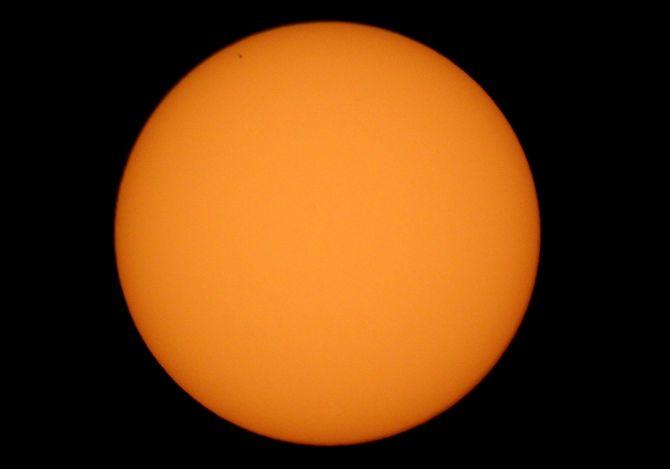 IMAGE:

During the transition, the planet Mercury (small dot on left) passes in front of the Sun
This occurs only when the Sun, Mercury and the Earth are lined up in one plane. It appears as a dot on the disc because its angular size is very small compared to that of the Sun as seen from the Earth.
The next transit of Mercury will take place on November 11, 2019 but the event cannot be seen from India as the same will begin after the sunset time of all places in the country.
"The transit of Mercury on November 13, 2032 will be visible again from India," Deputy Director, Nehru Planetarium, Delhi, N Rathnasree said.
The phenomenon is a relatively rare one which occurs 13 or 14 times in a century. It occurs in May and November. The interval between one November transit and next November transit may be 7, 13 or 33 years whereas the interval between one May transit and the next May transit may be 13 or 33 years.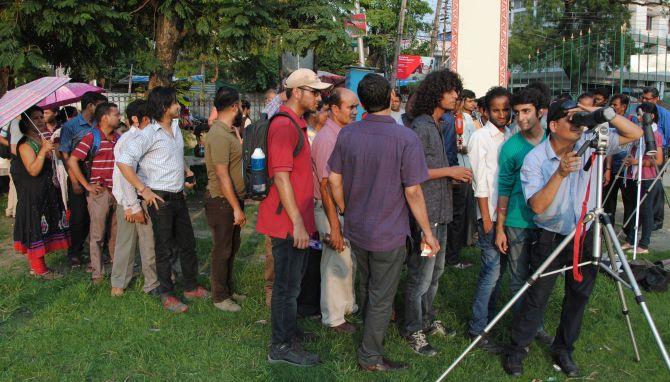 IMAGE:

People stand in a queue to witness the transit of the planet Mercury in Guwahati.
There were also a warning issued not to view the phenomenon with a naked eye.
"In Delhi, we had also created a dark room in which the an enlarged Sun was viewed on a projector. More than a thousand people attended the session," Rathnasree said.
In all the four metropolitans, the event started at 4.41 pm.
In Kolkata, despite a partially overcast sky, enthusiasts viewed the passage of the mercury across the sun.
"The size of mercury being very small in comparison to the sun, it appeared just like a dot on the solar disc," Director of Positional Astronomy Centre Sanjib Sen said.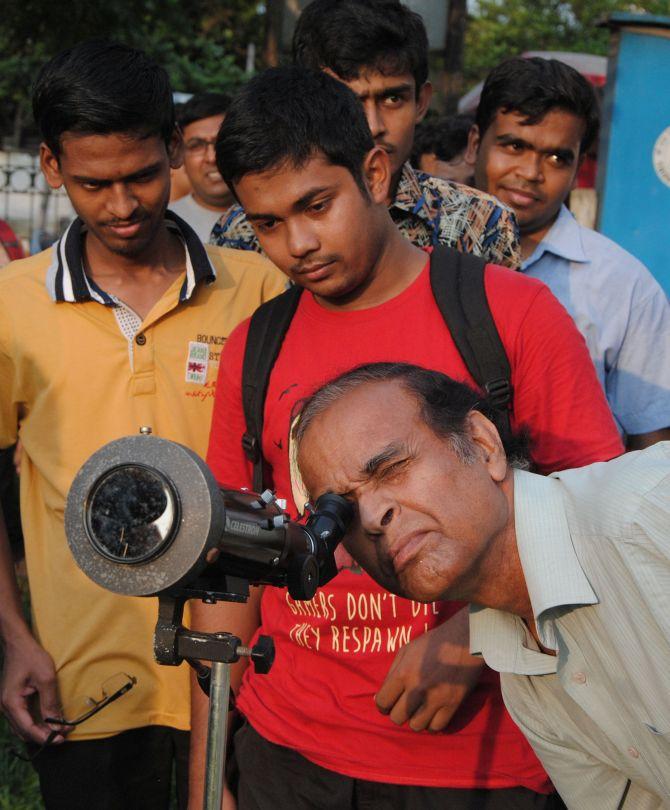 IMAGE: A man uses telescope to observe the Mercury transit in Guwahati.
The transit of Mercury was visible from most parts of of Asia (except south eastern parts and Japan), Europe, Africa, Greenland, South America, North America, Arctic, North Atlantic Ocean and much of the Pacific Ocean area.
The entire transit, from beginning to end, was visible from eastern North America, northern South America, the Arctic, Greenland, extreme northwestern Africa, western Europe, and the North Atlantic Ocean.
The last transit of Mercury had occurred on November 6, 2006 when just the end of the event was visible from the extreme north-eastern parts of India at sunrise.