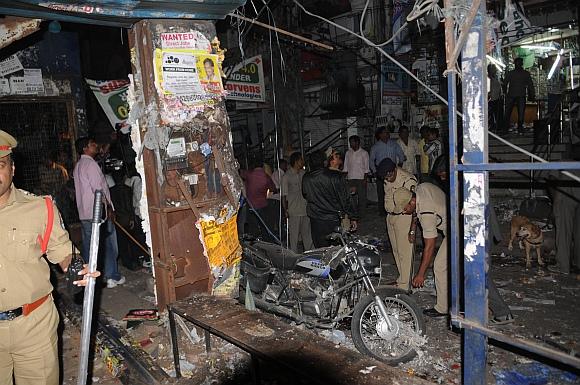 Terror struck Hyderabad killing 16 people and injuring 83 others tonight when two powerful near simultaneous blasts ripped through a crowded area close to a cluster of bus stands in Dilsukhnagar area.
The blasts triggered by Improvised Explosive Devices tied to two bicycles took place in the peak hour at two sites 100 metres apart outside a roadside eatery near Konark and Venkatadiri theatres in the area located on the Hyderabad-Vijaywada national highway in Cyberabad police limits.
The police said late on Tghursday night that 16 people, including two MBA students, have been killed in the blasts. Eight of the 13 killed have been identified, they said.
A woman was among the dead, said state Director General of police Dinesh Reddy, who said it was "definitely the handiwork of a terrorist network." Reddy said IEDs were used in the attack.
Union Home Secretary R K Singh said the near two simultaneous very powerful blasts indicate that it was a 'terror attack'.
Andhra Pradesh Chief Minister N Kirankumar Reddy said five-six of the injured were serious. The twin blasts, described as dastardly by Prime Minister Manmohan Singh who announced a Rs two lakh exgratia to the kin of each of the victims, triggered a stampede-like situation with people trying to scamper for safety as it left a bloody trail.
The scene wore a gory look with severed body parts lying around. Footwear and various other objects were also seen indicating the desperation of the victims and the injured to flee the spot.
The Dilsukhnagar area is thickly populated and traffic jams are routine in the evenings with officegoers and students rushing home. Large numbers of people wait at the numerous bus shelters, eateries and shops in the area.
Eight people were killed in the first blast that took place at 6.58 pm near Konark theatre and three in the second that followed three minutes later.
Shinde said two bombs were placed within a distance of 100 to 150 metres and placed in two bicycles.
The injured have been rushed to various hospitals by ambulances and police and bomb disposal squads swung into action and began searches.
Shinde, who is likely to visit Hyderabad on Friday, spoke of some intelligence inputs for the last two days which was shared with all the states but there was no specific information 'like this', referring to the terror strike.
Official sources said a general alert was issued for two consecutive days from February 19 to all major cities suggesting a possible attack by Pakistani-based terror groups to avenge the hangings of Parliament attack convict Afzal Guru and Mumbai attack convict Ajmal Kasab.
Prime Minister Manmohan Singh condemned the blasts, saying those behind the dastardly act will not go unpunished.
The previous major attack in Hyderabad was on August 25, 2007 when two blasts took place almost simultaneously in which 42 people were killed. The first blast was in Lumbini amusement park followed by another at an eating joint.
In the same year, there was a blast at the famous Mecca Masjid in which nine people were killed.
Union Home Secretary R K Singh said a NSG team headed for Hyderabad from Delhi by a Border Security Force aircraft. A team of NIA hub stationed in Hyderabad has also rushed to the spot.
Singh said no group has taken responsibility yet. There were reports that the bomb blast could be heard two to three kms away from the site of the explosion.
Sources in the state-run Osmania GeneralHospital said of the around 30 injured people admitted some of them were in a serious condition. They said three bodies were received
brought dead.
Official sources said 14 blast victims were admitted to private Yashoda hospital at Malakpet. In another private hospital, 18 injured persons were admitted.
S A Huda, Additional DGP (law and order), said the bomb blasts occurred at two places both in the Dilsukhnagar area falling within the Cyberabad commissionerate.
Heart rending scenes were seen at the hospital as blood soaked injured persons, some of them grievously, were being treated amid wails of their relatives.
Chief Minister N Kiran Kumar Reddy and Home Minister P Sabita Reddy also rushed to the spot. The chief minister described the attack as an 'act of cowards.
The Dilsukhnagar area witnessed a blast in 2002 near a famous Saibaba temple in which two persons were killed and over 20 injured.