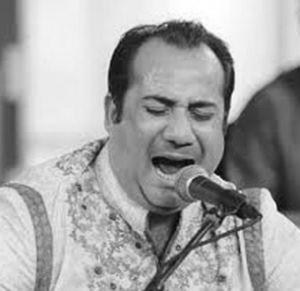 Noted Pakistani singer Rahat Fateh Ali Khan has been extensively questioned by revenue intelligence officials in connection with the undeclared foreign currency recovered from his possession.

The singer was detained at New Delhi's Indira Gandhi International airport on Sunday by the Directorate of Revenue Intelligence officials after he and two of his troupe members were caught allegedly carrying $1.24 lakh (about Rs 60 lakh) in undeclared foreign currency.

Sources said Rahat was then taken to the DRI office in New Delhi and questioned at length.

Rahat (37) and his entire troupe, numbering around 16, including his manager Maroof and event manager were detained.

Pakistan, meanwhile, has asked India to immediately end the 'protective custody' of the noted singer.

"Our High Commissioner (in Delhi) spoke with Indian acting Foreign Secretary Vivek Katju this morning again, insisting the protective custody be lifted," APP quoted a statement from the Pakistan Foreign Office as saying.

According to the Foreign Office, Indian authorities have released 12 members of Khan's team but three persons, including the singer, are still being detained, APP reported.

Pakistan High Commission officials visited the DRI zonal office where the singer has been detained.

Central Board of Excise and Customs (CBEC)

Chairman S Dutt Majumdar has said that there are "clear violations of excise laws and the singer and his troupe are being interrogated currently."

He has said the amount that they were carrying was "much above" the allowed limit.

The troupe was on in its way to Lahore via Dubai by an Emirates flight. A nephew of Pakistani singing legend Ustad Nusrat Fateh Ali Khan, Rahat is a top Bollywood playback singer and has several hit numbers to his credit.

He won the Filmfare Award for Best Male Playback Singer this year for Dil To BachchaHai Ji from the movie Ishqiya.

"The DRI officers found altogether $1,24,000, which is equivalent to about Rs 60 lakh. $24,000 were found from the baggage carried by Rahat while the remaining $50,000 each were found from the baggage of two troupe members," Central Board of Excise and Customs Chairman S Dutt Majumdar had said.

The recovered foreign currency included $10,000 and $8,600 in demand drafts, sources had said.

DRI personnel intercepted khan around 4 pm acting on some prior information, the sources said.

As per norms, a foreign national cannot carry beyond $5,000 in cash and $5,000 in other instruments. The person has to declare the amount if he is carrying more than this to the Customs Department.

According to sources, the payments by an event manager to Rahat were made in Indian currency and US dollars and these people were allegedly found converting the dollars to Indian rupees 'through unauthorised channels'.