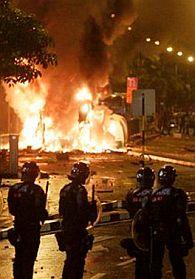 An Indian was on Thursday sentenced to 33 months in jail and three strokes of cane for his role in rioting last year, becoming the second man from the country to be jailed for the worst street violence in four decades in Singapore.
Arumugam Karthik, 25, had thrown projectiles at three police vehicles and one fire engine and flipped over three police cars. Karthik, who worked in the construction sector, had also set fire to one of the police vehicles at the scene of riot in Singapore's Little India -- a precinct of Indian businesses, pubs and eateries.
Karthik was sentenced to 33 months jail and three strokes of cane for rioting and 30 months jail for mischief by fire. The sentences will run concurrently. He faced maximum seven years jail for each offence of rioting and mischief.
The riot was sparked by a fatal bus accident involving another Indian, Sakthivel Kumaravelu, on the night of December 8, 2013. Karthik was the second among 25 men, charged for their roles in the Little India riot, to plead guilty to rioting and setting fire to property.
Last week, another Indian national Ramalingam Sakthivel, 33, was sentenced to 30 months in jail and three strokes of cane after admitting to one count of rioting and another of mischief by fire.
Six other Indians working in Singapore, initially charged with rioting, had earlier this year pleaded guilty to amended charges of failing to disperse. Out of the six who were sentenced to between 15 and 18 weeks in jail, five have returned to India.
The remaining 17 men charged have their cases pending in court, the Straits Times reported. The violence left 49 police and home officers injured and 23 emergency vehicles damaged.