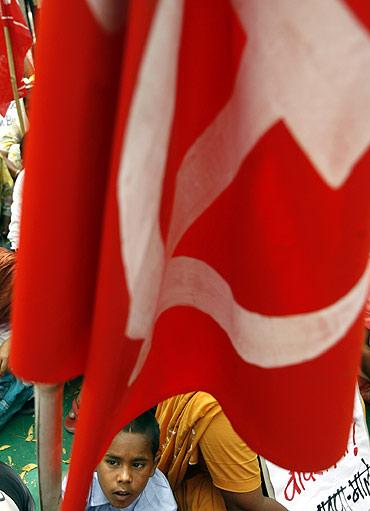 Twenty-five Communist Party of India-Marxist members, including senior leaders Ashok Bhattacharya and Jibesh Sarkar were detained from the party office in Siliguri on Wednesday in connection with an attack on a procession by Trinamool Congress workers.
Siliguri police commissioner Anand Kumar said glass bottles filled with liquid were thrown from the party office Anil Biswas Bhavan when a procession by about 4,000 TMC workers moved past it during the day.
Bhattacharya, CPI-M state committeee member and urban development minister of the erstwhile Left Front government and Sarkar, CPI-M Darjeeling district committee secretary, were present at the party office during the incident and were arrested, he said.
TMC had taken out the procession to protest the attack on Chief Minister Mamata Banerjee and West Bengal Finance Minister Amit Mitra by SFI in Delhi on Tuesday.
Following the attack from the CPI-M office a clash ensued between the two sides in which a number of supporters of both parties, three local journalists and a policeman were injured, Kumar said.
The situation was controlled by the police, who had to resort to lathicharge, he added. Later, Bhattacharya told PTI that he was told by the police that he had been arrested along with the 29 others for throwing stones at the TMC procession.
In Kolkata, CPI-M sources said besides Bhattacharya and Sarkar, some student leaders were arrested from the Siliguri party office. The party alleged that there was no let-up in the 'continuing attacks' on its offices in different parts of the state since Tuesday.
Cars of CPI-M leaders Abdur Rezzak Mollah and Sudarshan Roychowdhury were damaged in attacks by TMC, they claimed.