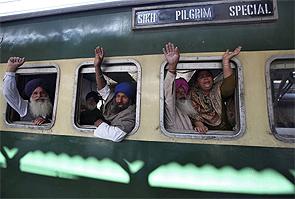 A large number of Sikh devotees from India and various other countries have arrived in Pakistan to celebrate the 545th birth anniversary of Guru Nanak Dev.
Nankana Sahib, the birthplace of the first Sikh Guru, situated in Pakistan's Punjab province, is of prime importance to the Sikh community.
Guru Nanak Dev was born there in 1469.
Syed Faraz Abbass, the deputy secretary of the Shrines Evacuee Trust Property Board, said nearly 2,000 foreigners from various countries including the United States, United Kingdom, Canada and France would participate in the pilgrimage for ten days.
He said that the Pakistan Sikh Gurdwara Parbandhak Committee and the Evacuee Trust Property Board have made elaborate security arrangements for the safety of the visiting Sikh devotees.
Abbas said luggage scanners would be installed at the entrance of Gurudwaras. Additional walk-through gates and surveillance cameras have also been installed at various places where the devotees would perform their rituals.
Abbass said that the pilgrims would perform rituals at Punja Sahib Hassanabdal from November 18 to November 20, including Yatra Punja Sahib, Matha Taki and Ashnan. They would also visit the shrines of Baba Wali Qandhari at the hilltop and recite from the Sikh holy book, Guru Garanth Sahib.
He said that on November 21, the Sikh pilgrims would board a special train to visit Gurdwara Dera Sahib in Lahore, from there they would return to India on November 24.
Image: Sikh pilgrims wave from a compartment of a train travelling to Pakistan at Amritsar station ' Photograph: Munish Sharma/Reuters