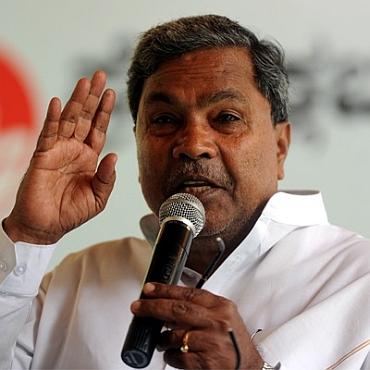 Taking a swipe at Prime Minister Narendra Modi for his talk on corruption, Chief Minister Siddaramaiah on Tuesday asked him to "walk the talk", posing four questions, including appointing an "untainted person" as Bharatiya Janata Party's chief ministerial candidate in the state.
Siddaramaiah took to Twitter to pose the questions, two days after Modi launched an all out offensive on his government at a BJP rally, accusing the chief minister of creating "new records" in corruption.
Modi had also dubbed the Siddaramaiah's rule as a "10 per cent commission" government.
Siddaramaiah in his tweet said "I am glad PM @narendramodi is talking about corruption. I now invite him to #WalktheTalk."
He posed questions to Modi such as appointing national ombudsman Lokpal, mysterious death of judge B H Loya, "astronomical rise" of BJP national president Amit Shah's son Jay Shah and appointing an "untainted person" as the chief ministerial candidate for Karnataka.
BJP has already said allegations against Shah's son had no basis.
Siddaramaiah's poser invited a quick rebuttal from BJP state president and party's chief ministerial candidate B S Yeddyurappa.
Welcoming the 'discussion', Yeddyurappa tweeted with a tagline #Date2Answer asking, "Why did you quash all the powers of Lokayukta and make it a toothless body?"
Yeddyurappa also questioned Siddaramaiah, about the Rs 70 lakh Hublot watch.
Siddaramaiah had declared it a state asset and handed it over to the assembly speaker.
Yeddyurappa also raised Deputy Superintendent M K Ganapathy suicide's case.
Ganapathy had allegedly committed suicide last year accusing the then Home Minister George and two other senior IPS officers of harassing him.
The state Crime Investigation Department had given a clean chit to George and the two officials. But, the Supreme Court later ordered a Central Bureau of Investigation probe, following which a case was registered against George and the two IPS officers.
BJP has been demanding George's resignation, which Siddaramaiah has turned down.