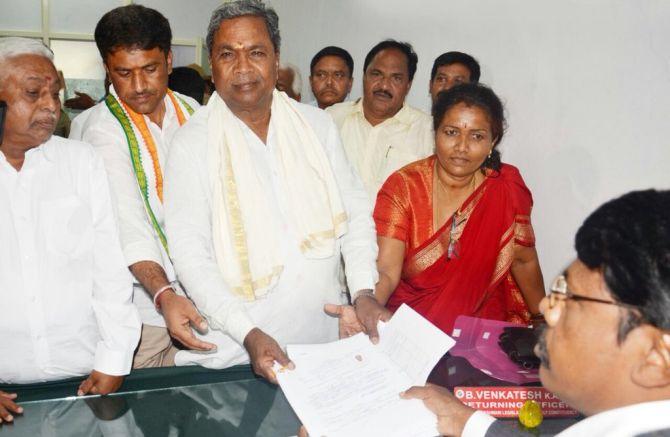 Karnataka Chief Minister Siddaramaiah on Friday said he would take a final call on Saturday on contesting from Badami in north Karnataka after discussing the issue with Congress president Rahul Gandhi.
Siddaramaiah, who has been fielded from Chamundeshwari constituency in Mysuru, said he was under pressure from Congress leaders from Bagalkote and Bijapur districts to contest from Badami.
"Tomorrow (on Saturday) I am going to take a decision after discussing with Rahul ji," Siddaramaiah said in response to a question about when he would decide on Badami.
Speaking to reporters in Mysuru, the chief minister said he would abide by the high command's decision.
"Those from Bagalkote and Bijapur districts; leaders like S R Patil, M B Patil, Timmapur,J T Patil....and several others are pressurising me to contest from there (Badami)," he said.
Siddaramaiah said he had told the high command that he would not contest from the constituency, but leaders were pressurising him.
"So I have told them that I will bring the opinions expressed by you (leaders) to the notice of the high command. Whatever the high command says, I will abide by it," he added.
Siddaramaiah has been camping in Mysuru since Monday and has dedicated his entire schedule for campaigning in Chamundeshwari and Varuna, constituencies from where he and his son Yatindra are the respective candidates.
Restricting his campaign to two constituencies has led to speculations that Siddaramaiah was unhappy that the party central leadership had not allowed him to contest from two constituencies.
The Congress in its list of candidates for 218 seats announced on April 15, had named Devraj Patil as its nominee from Badami.
But issuing of the B-form to Patil has been put on hold.
Siddaramaiah's reported wish to contest from two seats is said to have met with stiff opposition from veteran party leaders Mallikarjuna Kharge and Veerappa Moily, after which it was decided to field Patil.
Kharge and Moily reportedly opposed two constituencies for Siddaramaiah, stating that it would consolidate Vokkaliga votes in favour of Janata Dal-Secular in the Mysuru region and also send a wrong message about the chief minister lacking confidence.
Fielding Patil has led to internal squabbling within the local unit of the party, with many, including sitting MLA Chimmanakatti opposed to it.
Chimmanakatti has said that if the chief minister is not contesting, he should be the candidate.
Meanwhile, a Facebook post on an account allegedly belonging to Yatindra on Friday, stated that the chief minister would file his nominations from Badami in Bagalkote on April 23 has made headlines.
The post has reportedly been deleted now.
Badami, with a strong presence of Kurubas, the community to which Siddaramaiah belongs, was seen as the second safe option for the chief minister, as reports have suggested that the battle in Chamundeshwari will not be an easy one for him.
Siddaramaiah has won five times and tasted defeat twice at Chamundeshwari, from where he has been announced as the candidate.
He has been representing Varuna constituency in Mysuru since 2008, which has now been allotted to his son Yatindra.
Siddaramaiah files nominations
Meanwhile, the chief minister and state JD-S chief H D Kumaraswamy on Friday filed their nominations for the May 12 polls. Yatindra and sitting JD-S MLA G T Deve Gowda, who will take on Siddaramaiah in Chamundeshwari, are the others who filed their papers.
Siddaramaiah along with his son visited the Siddarameshwara temple at his native village of Siddaramanahundi, and the famous Chamundeshwari temple on Chamundi hill in Mysuru.
Siddaramaiah has won five times and tasted defeat twice in Chamundeshwari, from where he has been announced as the candidate by the Congress high command.
Siddaramaiah and his family have assets worth over Rs 20 crore, as per his affidavit filed along with the nomination.
Assets (movable and immovable) of Siddaramaiah stood at Rs 11.20 crore while that of his wife Parvathi were declared to be worth Rs 7.60 crore.
They have also declared assets worth Rs 1.55 crore under Hindu Undivided Family (HUF).
Siddaramaih, who stated his occupation as politician and that of his wife as housewife, declared that they have liabilities worth Rs 2,59,92,239 and Rs 2,26,40,000 respectively.
Retaining Karnataka is very crucial for the Congress as it is the second major state after Punjab, where it is in power.
Though, Congress has not announced its chief ministerial candidate, the party has said Siddaramaiah will be the party's face during the polls.
Kumaraswamy, a former chief minister, filed his nominations from two constituencies Ramanagara and Channapatna accompanied by his wife Anitha and supporters.
Kumaraswamy declared his and his wife's assets totalling more than Rs 167 crore. Their liabilities stood at over Rs 103 crores.
Kumaraswamy declared his movable and immovable assets at Rs 42.91 crore and that of his wife at Rs 124.22 crore.
His occupation was mentioned as a public servant and an agriculturist, and his wife an entrepreneur.
According to the affidavits, they have liabilities of about Rs 2,94,75,198 and Rs 1,01,93,09,364 respectively.
Presently representing Ramanagara, Kumaraswamy is looking for retaining the constituency.
His wife had lost in Channapatna in 2013. JD-S supremo H D Deve Gowda's older son and Kumaraswamy's brother H D Revanna too filed his nomination from Holenarsipura in Hassan district, considered as party bastion.
Karnataka Home Minister Ramalinga Reddy from Bengaluru's BTM layout and senior Bharatiya Janata Party leader Suresh Kumar from Rajaji Nagar also filed their nominations.