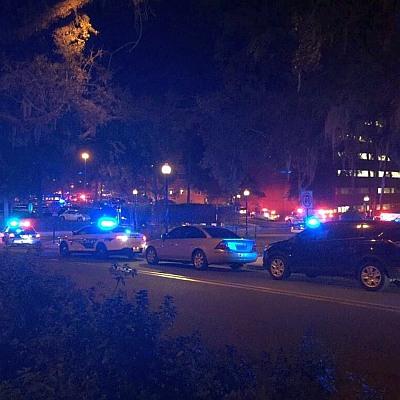 At least two people are being treated for gunshot wounds after a shootout in the library of the Florida State University in the United States.
The gunman has reportedly been killed by the university campus police.
The shooting happened just after midnight in the early hours of Thursday at the Strozier library, located on the Tallahassee campus of the popular university.
As soon gunshots were heard, students received a text message saying: '*FSU ALERT!* Dangerous Situation! Main Campus -- Tallahassee. Seek shelter immediately, away from doors and windows."
Freshman Nikolai Hernandez was in his dorm room across from the library when he heard five or six rapid gunshots.
"It was a consecutive bop, bop, bop, bop, bop," Hernandez told Fox News.
"It makes me definitely a little bit nervous. I was supposed to be in the library. I had a paper to do and I got a little bit lazy and decided not to do it."
He said he had friends still locked inside the library two hours after the shooting.
Another student Toni Haywood told ABC News that she was on the second floor of Strozier Library at about 12:30 am when she heard gunshots. Minutes later, people on the first floor ran upstairs, telling students to hide, she said.
"The police came on the intercom and said that there was a gunman in the lobby, and I think he said two people had been shot," Haywood told ABC News, adding, "He said to stay away from doors and windows and to stay where we were. We all waited, then the police came back on and said the gunman was in custody and to stay where we were."

Image: Florida State University on lockdown.
Photograph: Nick Claross/Twitter