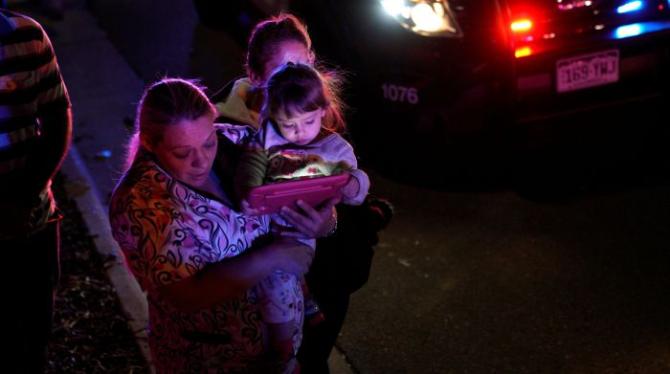 IMAGE: A woman who was shopping with her child during the shooting at a Walmart leaves the area in Thornton, Colorado. All Photographs: Rick Wilking/Reuters
An unidentified gunman opened fire at a Walmart store in the United States state of Colorado on Thursday, killing three persons including a woman.
Hundreds of emergency responders ringed the Thornton Town Centre shopping complex for hours after the shooting was reported around 5 am IST.
The Walmart is part of the centre.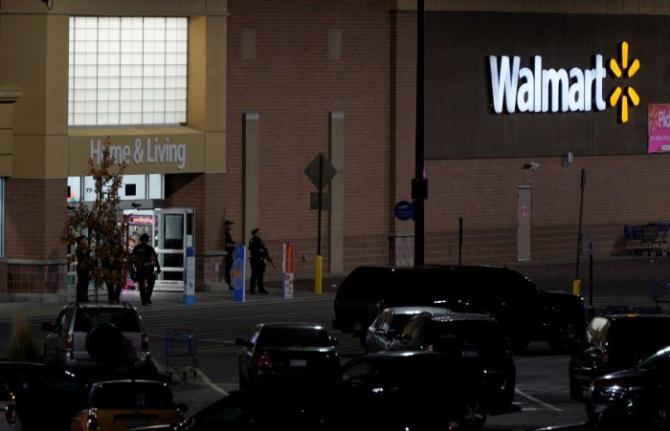 IMAGE: Policemen guard the entrance at the scene of the shooting at Colorado Walmart.
'Multiple parties' were down, Thornton police said in a tweet.
An hour later, the Thornton Police Department tweeted, 'At this time this is not an active shooter'.
The men died at the store, and the woman died at a hospital.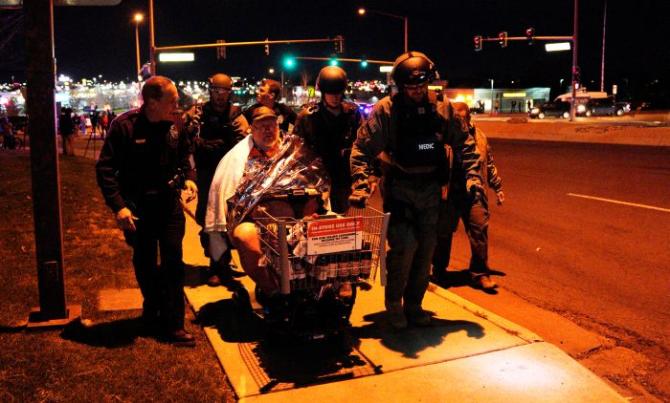 IMAGE: SWAT medics evacuate a shopper in a Walmart cart from the scene of the shooting.

No arrests have been made.
Aaron Stephens, 44, was in the self-checkout line at the Walmart when he heard a single shot followed by two more bursts of gunfire before people started running for the exits.
"The employees started screaming. Customers were screaming. They were running like crazy, and I ran out too because I didn't want to get killed," he said.
Investigators, who have not released any details about the circumstances of the shooting, were reviewing security footage and interviewing witnesses to get a description of the shooter.