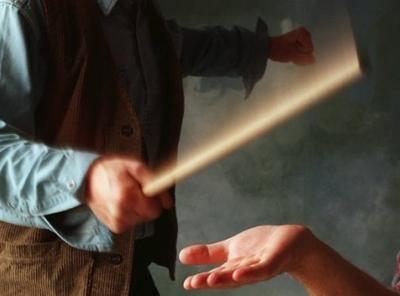 A horrifying case of corporal punishment, a 10-year-old boy died after being allegedly beaten up by his headmaster on the suspicion of stealing a pen in Baddupur area of Barabanki, Uttar Pradesh.
Shiva Rawat, a Class-III student of Chaudhary Dwarika Prasad Academy at Rahilamau village in the district, was mercilessly beaten up by headmaster Lalit Kumar Verma on Tuesday, Superintendent of Police Abdul Hameed said on Thursday.
Shiva, son of one Chhavi Raj, was found to be in possession of a "stolen" pencil and eraser after a teacher searched the bags of all students in the class on receiving a complaint about the missing stationery items.
When the teacher informed the principal about the recovery, he severely beat up Shiva, who complained of stomach ache and began vomiting blood on reaching home. He said Verma had punched him in his stomach, police said.
After Shiva's condition deteriorated yesterday, efforts were made to admit him to Fatehpur hospital where he was declared dead on arrival.
A case of culpable homicide not amounting to murder has been registered and the headmaster arrested, the SP said.
Shiva's body has been sent for post-mortem to establish the cause of death. Further action will follow on the basis of the autopsy report, police said.
The minor could have died of internal injuries due to the thrashing, they said.
The headmaster had allegedly beaten up another student named Sudhir a few months ago.
Sajeevan had tried to take up the issue with the school authorities, but his complaint was brushed aside.
"The principal is in a habit of beating up kids, sometimes with a stick, for even small mistakes," Sajeevan alleged.
Additional District Magistrate Prem Prakash Pal said officials of the basic education department have been informed about the matter and they were looking into it.
He said as it was a private school, the process to derecognise it was underway.
The academy was started by a well-off NRI from the area around 10 years ago.