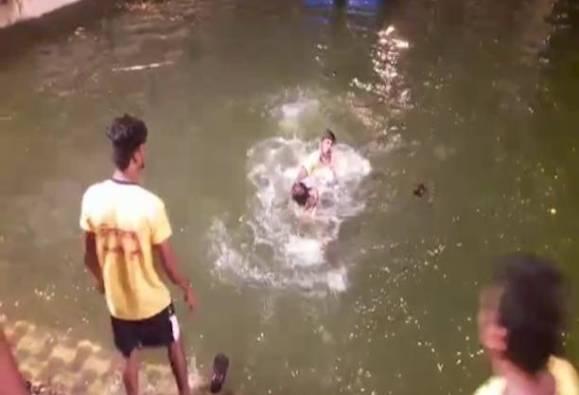 In the latest in a series of incidents of attacks on policemen in Maharashtra, four youths of a Ganesh Utsav mandal allegedly tried to drown a sub-inspector in Kalyan township of Thane.
Raising the safety of police personnel as a matter of serious concern, Shiv Sena chief Uddhav Thackeray on Wednesday met Chief Minister Devendra Fadnavis, seeking protection to law enforcers and strict punishment to attackers.
Uddhav spelled out his concerns on a day when the purported video of a policeman being pushed into a lake and four youths of a local Ganesh Utsav mandal trying to drown him in Kalyan township of Thane district went viral.
The youths had earlier objected to being disciplined by police sub-inspector Niteen Dondu Dagale.
During immersion of the Ganpati idols on Tuesday, Dagale, 38, attached to Kolsewadi Police Station in Kalyan, was on bandobust duty at Teesgaon Talao of the town.
As he was controlling the crowd assembled for the immersion, some members of Jari Mari Ganesh Utsav mandal, who were asked to follow the queue system, objected to being disciplined and picked up a quarrel with Dagale.
Later, the youths allegedly pushed him into the lake. When Dagale struggled to come out of the water, one of the youths jumped in and again allegedly tried to drown him, but he managed to save himself by swimming out of the lake, police said.
The video also showed people indulging in revelry with no one coming to the rescue of the police officer.
The Kolsewadi Police has registered offences against the four accused under IPC sections 307 (attempt to murder), 353 (assault or criminal force to deter public servant from discharge of his duty), 332 (voluntarily causing hurt to deter public servant from his duty), 186 (obstructing public servant in discharge of public functions) read with 34 (acts done by several persons in furtherance of common intention).
A manhunt has been launched to nab the youths.
The Shiv Sena chief met Fadnavis at his official residence over the concerns harboured by families of policemen in wake of the recent attacks on police personnel.
The chief minister said the government will consider all demands of the families of police personnel.
The police families residing in Worli's BDD chawl had expressed their anger over the attack on traffic constable Vilas Shinde, who was allegedly beaten up by two youths following which he succumbed to his injuries on August 31.
Shinde was hit on head with a wooden plank allegedly by a juvenile after he asked the latter for vehicle documents at a petrol pump in suburban Khar.
A day after he died, a helmet-less rider rammed into a traffic constable at Kurla in Mumbai when the policeman attempted to stop him at a nakabandi.
In another incident, a traffic constable was injured at a traffic junction in Thane when he tried to stop a vehicle on September 2.
Uddhav, who was accompanied by a few Sena ministers, including Minister of State for Home Deepak Keskarkar, and the families of policemen, later told reporters that "I think the Home Department needs a separate minister to check attacks on police."
"I demanded three things from the CM -- safety of cops in state, proper implementation of law, and strict punishment to attackers," he said.
Later, Fadnavis, who holds the home portfolio, said the government will consider all demands of the families of police personnel.
Meanwhile, taking serious note of increasing instances of attack on police personnel in Mumbai and neighbouring districts, the Maharashtra Police appealed to people to restrain from such unprovoked behaviour and also warned them of consequences of indulging in such acts.
"I want to clarify that such incidents would not be tolerated at all and stringent penal actions would be applied to those found accused of resorting to such unprovoked behaviour. I want to assert, especially to the youths, that if they resort to such unprovoked behaviour then it will be almost impossible for them to get a job anywhere and they won't be able to get even passport clearances," Director General of Police of Maharashtra Police Satish Mathur said.
He described the spate of attacks on policemen as unfortunate and appealed to the people to respect their work.
"Our message is clear. We are not going to spare anyone involved in such cases. Attacking a policeman is equivalent to attacking whole society. Each policeman is like you and comes from you only. Hence respect their work as he is discharging his duties by setting aside or sacrificing his own commitments and social obligations," Mathur said.
The top cop also denied allegations that the police force was not acting tough on perpetrators due to "political patronage".
"There is no political pressure or political patronage at all on us. We deal such cases very firmly and as per the law. Even the chief minister has instructed me to take all possible measures against the accused in this case and all such cases," Mathur told reporters at a press conference.
When asked about reasons of spurt in such cases, he said, "Largely it seems people are pissed with traffic enforcement due to rules imposed during congregational occasions. But people should think about it seriously and cooperate with the men in Khaki, rather venting out their aggression on them."
To a question on unruly behaviour of cops, Mathur said, "If people find the behaviour of a policemen unruly or objectionable, then there are many channels through which they can file a complaint against such erring police officials. But taking law into their own hands is not acceptable at all."