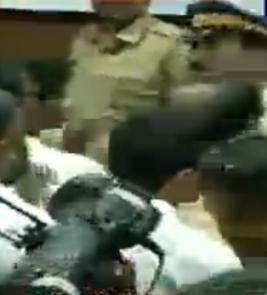 Shouting anti-Pakistan slogans, dozens of Shiv Sena activists on Tuesday disrupted the press conference of a Sufi music band from that country at the Mumbai Press Club, the police said.

Carrying saffron party flags and chanting "Pakistanis go back" and "Vande Mataram", alleged Sena workers forced their way into the conference hall, heckled the artistes of 'Meekal Hasan Band' and overturned chairs when they were in the middle of a media briefing.
Swinging into action, the police managed to evict the protesters and the entrance to the club was shut. President of the club Gurbir Singh said he has approached state's Home Minister R R Patil and Joint Commissioner of Police (Law and Order) Sadanand Date who have assured deployment of additional police force at the venue.
Singh deplored the incident, saying efforts to improve Indo-Pak relations should be welcomed and not thwarted. Shiv Sena has been opposing participation of Pakistani artists in events in India for quite a long time.
It had protested against the inclusion of Pakistani television host and cross dresser Begum Nawazish Ali and actor Veena Malik in Bigg Boss show in 2010 and disrupted a Sindhi Sufi music festival in Delhi last year where artists from the neighbouring country were present.