She stands tall at 5'10". Though weighing in at just 57 kgs, supermodel Sheetal Mallar is quite a heavyweight in the fashion world.
Her journey into the world of glamour took off when she was crowned 'Face of the Year' in 1994 by Femina.
She was also among the 12 finalists in the Elite supermodel contest held in the same year.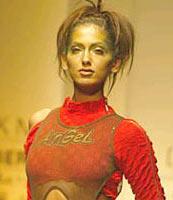 The face of Maybelline cosmetics, Sheetal was not always the picture-perfect clotheshorse that she is now. Ace photographer Gautam Rajadhyaksha got her her an assignment with Danabhai Jewellers. This was followed by campaigns like LG Electronics, McDowells and Gold Flake and there was no looking back for this leggy beauty.
rediff.com got this busy model and got her to throw light on the good, bad and the ugly in her life.

Good: Does not smoke. Drinks only socially and tries to be in good shape. Does not enjoy wearing make up. Does not make a fuss on the ramp about wearing clothes she does not like. Says it would be rude to say no to the designer.
Bad: Tries to work out regularly, but normally not possible because of her hectic lifestyle.
Ugly: Uncomfortable wearing transparent garments and showing butt!
Psst... psst: Does not use Indian beauty products.
Have you checked out...
Katrina's beautiful, and she knows it
What models do to relax!
Vidisha Pavate on boo-boos on the ramp
Photo: Jewella C Miranda