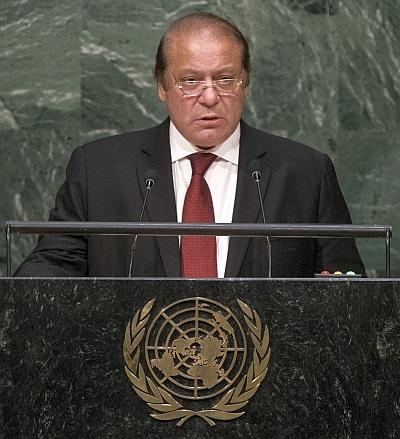 Pakistan's Prime Minister Nawaz Sharif "spoke like the Supreme Commander of the Hizbul Mujahideen" when he celebrated the slain Burhan Wani in his speech before the United Nations General Assembly, Bharatiya Janata Party leader Ram Madhav has charged.
All of India, said Madhav, is angry after Nawaz Sharif's speech, in which he also raked up the recent protests in Kashmir.
"He was openly campaigning for one of his terror commanders, Burhan Wani," said Madhav, who is his party's in charge of Jammu and Kashmir.
"It is unfortunate that in the UN, he quoted the name of Burhan Wani, who was not a freedom fighter. Nawaz Sharif has praised a terrorist. This shows Pakistan's hollowness. Most of the terrorists are nurtured in Pakistan," said the Congress' Sandeep Dikshit.
India has said Sharif's comments on Burhan Wani are shocking, with junior foreign minister M J Akbar describing it as "self-incrimination by Pakistan".
Foreign Ministry Spokesperson Vikas Swarup tweeted minutes after the Pakistan PM's speech, 'Pak PM Sharif at #UNGA glorifies Hizbul terrorist Burhan Wani in UN's highest forum. Shows continued Pak attachment to terrorism.'
Sharif had devoted much of his 20-minute speech at the UNGA session to Kashmir and described Burhan Wani as a "young leader" of a "Kashmiri intifada (uprising)".
India has blamed Pakistan for engineering and fuelling the unrest in Kashmir ever since 22-year-old Burhan Wani was killed by security forces on July 8.
At least 80 people have died and over 10,000 including many security personnel have been injured since as protesters have clashed with security forces.