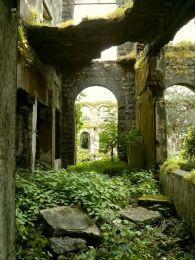 The sessions court in Mumbai on Thursday found all the accused in the Shakti Mills gangrape cases guilty.
They will be sentenced by the court later today.
The first case pertains to the gang-rape of a 22-year-old photojournalist who had gone to the deserted Shakti Mills compound in Central Mumbai with a male colleague on an assignment on August 22, 2013.
Five men, (including a juvenile, whose case was separated) are accused of raping her there after assaulting her colleague.
The accused in this case, namely, Vijay Jadhav, Kasim Bengali, Salim Ansari and Siraj Rehman (and the minor boy), were charged with rape, conspiracy, common intention, unnatural sex and offences under the Information Technology Act.
The other case is of an 18-year-old telephone operator who was allegedly gang-raped by five persons (including three of the accused in the first case) on the same premises on July 31 last year.
The accused in this case are Mohammed Ashfaq Sheikh, Mohamed Kasim Hafiz Sheikh alias Kasim Bengali, Salim Ansari, Vijay Jadhav and a minor. The minor's case was separated.
During the trial, Special Prosecutor Ujjwal Nikam termed the incidents as horrible, gruesome, merciless sexual assaults on two helpless, defenceless and innocent survivors.
Defence lawyers R G Gadgil and Prakash Salsingikar, on the other hand, contended that prosecution's versions were concocted ones, without any evidence.
"The screenplay was ready, the police went on casting the actors (the accused)," advocate Gadgil had argued.
The prosecution examined 44 witnesses in the photojournalist's case and 31 in the other case. The defence examined three witnesses in the photojournalist's case and only one witness in the other case.
Image: The Shakti Mills compound