Modi and Shah have finalised names for the Rashtrapati's post, which the BJP boss has discussed with the RSS chief.
R Rajagopalan reports.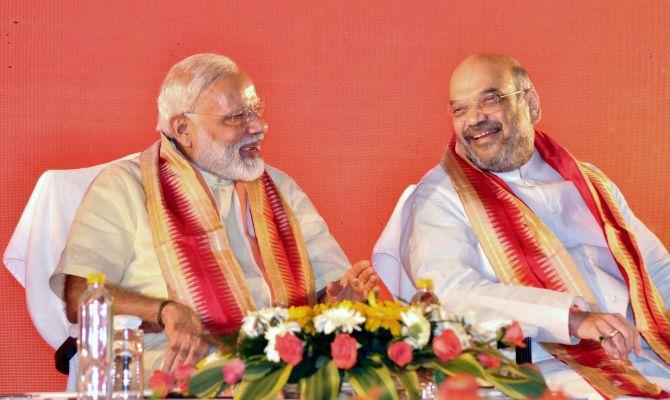 Prime Minister Narendra Modi and Bharatiya Janata Party President Amit Shah have zeroed in on a few names for the Presidential election.
Senior Union Ministers Arun Jaitley and Nitin Gadkari, in informal chats with the media, accept that the Modi-Shah duo have some names in mind.
Shah discussed these names with Rashtriya Swayamsevak Sangh Sarsanghchalak Mohan Bhagwat -- who the Shiv Sena wants as President -- during his visit to Nagpur.
Modi, according to sources, has already sought the votes of the BJP's National Democratic Alliance partners for the party's Presidential candidate.
Of course, no names were divulged as neither Modi nor Shah had then interacted with Bhagwat.
In early May, Modi met Y S Jagan Mohan Reddy, and secured the assurance of YSR Congress votes.
He then met the leaders of both All India Anna Dravida Munnetra Kazhagam factions -- O Panneerselvam and Tamil Nadu Chief Minister Edappadi Palaniswami -- and Telugu Desam chief Nara Chandrababu Naidu.
Shah has drawn up a calendar of important events till July 25, the day the new President is sworn in.
A sophisticated 'War Room' has been set up at Shah's office at the BJP's national headquarters.
It will have a list of MPs and MLAs from all states with their phone numbers and addresses.
Shah will send a letter to all the MPs and MLAs. This is the drill followed in earlier Presidential elections.
For the first time in 30 years, the ruling party can have its nominee elected as President and does not need the Opposition parties' support.
Shah has also established an informal think-tank to advise him about the drill to be followed in the month leading up to the Presidential election.
The think-tank consists of three BJP general secretaries and five youngsters with electronic expertise.
Ananth Kumar, the Union minister for parliamentary affairs, will coordinate with NDA allies and the Opposition parties.
He will accompany the Presidential candidate to the states to meet chief ministers, MLAs, NDA allies.
Ananth Kumar will be assisted by Rakesh Singh, chief whip of the BJP Parliamentary Party.
Shah has picked Union Ministers Piyush Goyal, Dharmendra Pradhan, Rajiv Pratap Rudy and Nirmala Sitaraman and BJP General Secretary Bhupendra Yadav for his core team which will meet daily till the Presidential election ends.
This core team will coordinate with BJP MPs, NDA allies, chief ministers and leaders of legislature parties.
The BJP Parliamentary Board is likely to be convened on Thursday, June 15, to finalise the party's Presidential candidate.
June 15 onwards, Ananth Kumar and the Presidential candidate will visit the states, accompanied by between 10 to 15 senior BJP MPs.