The attacker believed that 'all disabled people needed to be killed'.
A 26-year-old former employee of a care facility in Japan killed 19 people and injured 25 others, 20 seriously, in a knife attack on Tuesday.
Nine women and 10 men were among those killed at the Tsukui Yamayuri En (Tsukui Lily Garden) care facility in Sagamihara, south of Tokyo, by Satoshi Uematsu.
Shortly after executing the worst mass killing in Japan since the end of World War II, the 26-year-old surrendered to the police saying, 'I did it'.
He also reportedly told the police about wanting to kill disabled people.
'It is better that disabled people disappear,' media reports quoted police sources as saying.
CCTV footage played on TV news programmes showed a man driving up in a black car and carrying several knives to the Tsukui Yamayuri-en facility in Sagamihara, 50 kilometers west of Tokyo.
The Tsukui Yamayuri Garden facility is set in extensive grounds with separate living quarters for men and women. It cares for people with a wide range of disabilities and had about 150 residents at the time of the attack, according to local officials.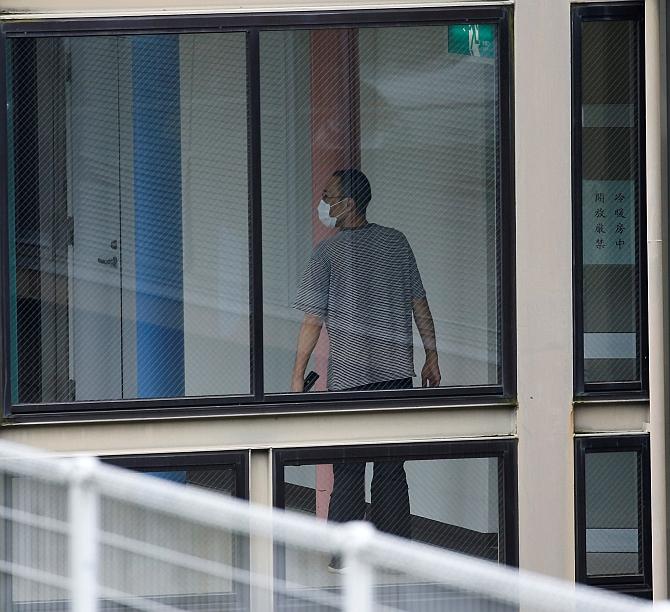 IMAGE: An unidentified person is seen inside a facility for the disabled, where the deadly attack took place, in Sagamihara, Kanagawa prefecture, Japan. Photograph: Issei Kato/Reuters
The victims were aged between 18 and 70, the Kyodo news agency said citing the Sagamihara City Fire Department.
Twenty-nine emergency squads responded to the attack, Kyodo reported, with those wounded taken to at least six hospitals in the western Tokyo area.
A woman who said she used to work at the facility said many patients were profoundly disabled.
"They are truly innocent people. What did they do? This is shocking," she told Japanese television station TBS.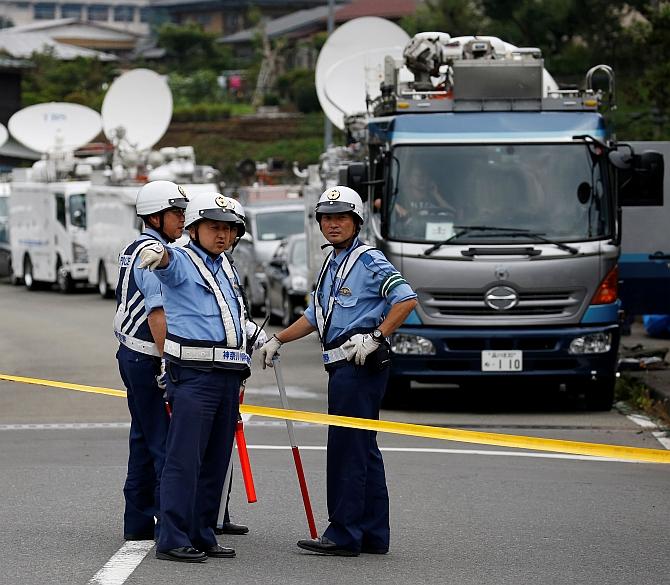 IMAGE: Police officers stand guard outside the facility for the disabled. Photograph: Issei Kato/Reuters
At a hastily-called news conference Tuesday morning, Kanagawa Governor Yuji Kuroiwa offered 'sincere condolences and an apology' to the victims and their families, as the prefecture oversees the facility.
The prefecture will do whatever it can to support the families and come up with measures to prevent a recurrence, Kuroiwa said.
The man broke in by shattering a window at 2:10 am (local time), according to a prefectural health official, and then set about slashing the patients' throats.
Details of how he did that, and if the victims were asleep or otherwise helpless, were not immediately known, although a letter he sent to Japan's Parliament in February gave a peek into Uematsu's dark turmoil.
He worked at the Tsukui Yamayuri-en facility from 2012 to February this year and knew it well. He knew that there would be fewer staffers in the wee hours, Japanese media reports said.
Uematsu, who once dreamed of becoming a teacher, somehow started thinking that disabled people needed to be killed.
In February, he tried to hand deliver a letter he wrote to Parliament's lower house speaker, demanding all disabled people be put to death through 'a world that allows for mercy killing,' Kyodo news agency and TBS TV reported.
Uematsu boasted in the letter that he had the ability to kill 470 disabled people in what he called was 'a revolution', and outlined an attack on two facilities, after which he said he will turn himself in.
He also asked he be judged innocent on grounds of insanity, be given 500 million yen (Rs 33.5 crore) in aid and plastic surgery so he could lead a normal life afterward.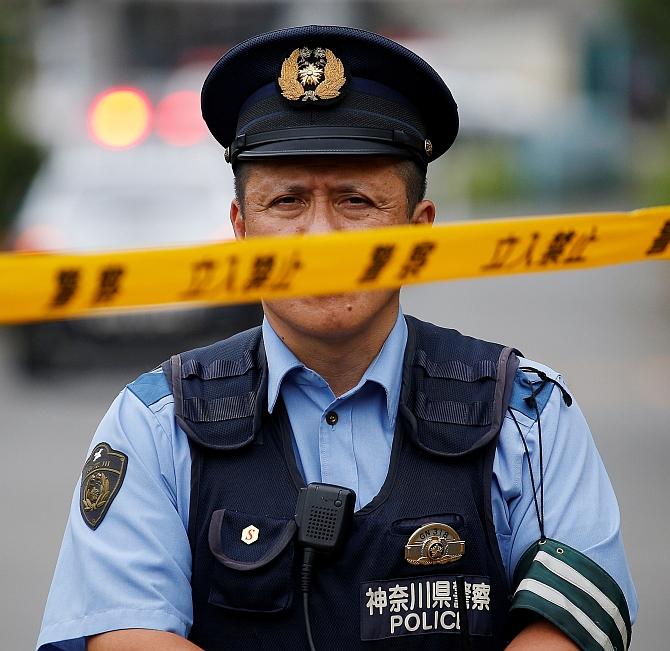 IMAGE: A police officer stands guard near the facility for the disabled. Photograph: Issei Kato/Reuters
Mass killings are rare in Japan, which has extremely strict gun control laws. In 2008, a man drove a truck into a packed shopping district at Akihabara in Tokyo, before climbing out and randomly stabbing people. Seven people died, the BBC reported.
That attack occurred on the same date that a man with a history of mental illness stabbed eight children to death at an Osaka primary school in 2001.
A revision to Japan's Swords and Firearms Control Law was introduced in 2009 in the wake of the Akihabara attack, banning the possession of double-edged knives and further tightening gun-ownership rules.
Members of a doomsday cult killed 12 and made thousands ill in 1995 in simultaneous attacks with sarin nerve gas on five Tokyo rush-hour subway trains.