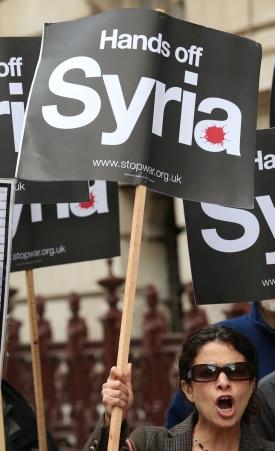 Amid widespread debate about a possible military strike by the United States against Syria, a new poll by CNN/ORC revealed Monday that an overwhelming majority of Americans does not want their country to get involved in yet another war.
The poll results released on Sunday morning said that while eight in 10 Americans believe that Bashar al-Assad's regime in Syria gassed its own people, a strong majority doesn't want the Congress to pass a resolution authorising a military strike against it.
More than seven in 10 said in the poll that such a strike would not achieve 'significant goals' for the US and a similar number say it's not in the national interest of US to get involved in Syria's civil war.
The Senate is expected to take up the resolution after returning from its summer recess Monday while President Barack Obama participates in a round of interviews with the major television outlets.

Amid a flurry of briefings by White House officials, Obama will travel to Capitol Hill on Tuesday to make his case with lawmakers, hours before he speaks to the nation in a prime-time address, the CNN said.
Amid growing pressure on Obama not to attack the Arab country, Prime Minister Manmohan Singh joined the chorus of world leaders last week saying that whatever action is required in Syria should be taken under the United Nations framework.
More than seven in 10 Americans simply don't see a military response making any difference. They don't see it doing any good. They're very skeptical, post Iraq and even post Libya and post Egypt, that the US can do something in a limited way in the Middle East and walk away with a success. And so the skepticism is driving it right now, CNN said.
If the Congress rejects the Syria resolution, the White House has said that the president still has the authority to strike. "I think it would be a mistake for me to jump the gun and speculate because right now I'm working to get as much support as possible out of the Congress," Obama was quoted as saying by CNN late last week.
The Senate could vote on the resolution as early as Wednesday and the outcome there is very much in doubt. Even more uncertain are prospects in the House where Republican leaders say they'll wait to see what happens in the Senate first.
"Congressional approval would help Obama a little, but a majority would still oppose air strikes against military targets in Syria," CNN Polling Director Keating Holland said. "If Congress authorises military action, 55 per cent of Americans would still oppose air strikes."
United Nations Secretary General Secretary-General Ban Ki-moon last week urged leaders at the Group of 20 summit in St Petersburg to explore ways to avoid further militarisation of the conflict in Syria and to revitalise the search for a political settlement, warning that 'tragic consequences' could follow military action.
Ban, who has been pushing for a political solution during the summit, said the international community must renew efforts to convene the Geneva conference, which would bring all parties to the negotiating table.
"I must warn that ill-considered military action could cause serious and tragic consequences, and with an increased threat of further sectarian violence," Ban said in his remarks at the Humanitarian Initiative on Syria, held on the margins of the G20 summit. "We should explore ways to avoid further militarisation of the conflict and revitalize the search for a political settlement instead."
Ban also briefed reporters on Monday on the Syrian issue.

Image: An anti-war protestor takes part in a demonstration against a strike on Syria

Photograph: Peter Macdiarmid/Getty Images