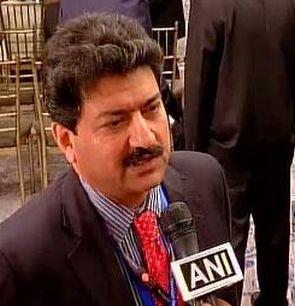 Senior Pakistani TV journalist Hamid Mir, who faced threats from multiple quarters including the Taliban, was on Saturday shot at in Karachi by 4 unidentified gunmen near a bridge on way to his office.
Mir, 47, sustained three bullet injuries on lower part of his body after he was shot at near Natha Khan bridge soon after he left the Karachi airport for his office. He was rushed to hospital where he was operated upon.
Karachi police chief Shahid Hayat said Mir was shot thrice, one bullet piercing his intestine while the other two wounded his leg and pelvic area. He said Mir was "out of danger".
Geo TV reported that Mir, who has security guards with him, called up office to inform them of the attack on him.
According to the driver of the car, as the car slowed down near the flyover, a gunman on a motorbike opened fire. Without waiting for a second, he pressed on the accelerator.
Geo News reported the attackers, who were on a bike and car, followed them.
The driver drove straight to the hospital.
The incident happened at about 5.30 pm and was admitted to hospital in a state of unconsciousness.
Geo News Islamabad bureau chief Rana Jawad said Mir told him after being attacked that the gunmen were chasing him and continued to fire at the car.
A popular news anchor, terrorism expert and security analyst, Mir currently hosts political talk show Capital Talk on Geo TV.
In November 2012, a bomb was recovered from under his car which was believed to have been planted by the Pakistani Taliban.
Just last month, senior analyst Raza Rumi was shot at in Lahore that killed his driver.
The issue of security of media personnel was raised by Committee to Protect Journalists, a media advocacy group, during a meeting with Prime Minister Nawaz Sharif last month.
The prime minister had promised to take appropriate steps to ensure security of journalists in Pakistan.
Political parties condemned the attack. "Shocked & saddened by attack on Hamid Mir in Karachi. Strongly condemn growing threats/attacks on journalists. Govt must ensure their safety," Pakistan Tehreek-e-Insaf chief Imran Khan tweeted.
PPP chief Bilawal Bhutto Zardari tweeted, "Hamid Mir never steps back from speaking out. May this braveheart recover fast from cowardly attack".
Mir belongs to a literary and journalistic family. His grandfather Mir Abdul Aziz was an Urdu, Persian, and Punjabi language poet from Sialkot. Mir's father, professor Waris Mir, was also a columnist.
Mir's brother accused "elements in the ISI" of orchestrating the attack on him.
Amir Mir, who is also a journalist told Geo TV that Hamid had told him two weeks back that if anything happens to him then "elements in the ISI and its chief Lt Gen Zaheerul Islam should be blamed".
Geo TV reported that Hamid had confided the same to his friends, senior management of the channel, certain officials in the government and even the Army.
"No terrorist organisation would know that he was coming to Karachi from Islamabad. Intelligence people are everywhere. Only they would know his movement," Amir said.
He said Mir told him the intelligence agencies were upset with him for the coverage of the Balochistan issue, Musharraf trial and the political interference by security establishment.
In 2011, when he had faced certain threats, he had blamed the security establishment.
Amir said that Hamid had also sent a video statement in this regard to the Committee for Protection of Journalists.
Image: Senior Pakistani TV journalist Hamid Mir
Photograph: Courtesy ANI