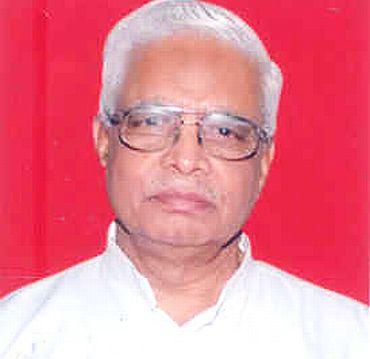 A key Rashtriya Swayamsevak Sangh ideologue and former Bharatiya Janata Party Rajya Sabha member Balvant alias Bal Apte died in Mumbai on Tuesday, losing his 12-day battle for life.
Apte, 73, is survived by his wife and a daughter.
"Apte was admitted to our hospital on July 6 for a respiratory disorder. He died of chronic lung disease around 3 pm today," Medical Director of Hinduja Hospital Gustad Davar told PTI.
Apte, a prominent face of the Sangh in BJP, was elected to the Rajya Sabha from Maharashtra twice in 2000 and 2006. He was denied party nomination earlier this year and replaced by Ajay Sancheti, considered close to BJP president Nitin Gadkari.
He was BJP vice president during 2002-2010 and was also a member of the party's Central Parliamentary Board.
BJP's Tarun Vijay described him as an ideal RSS swyamsewak and legendary organiser for Akhil Bharatiya Vidyarthi Parishad. Apte was for long associated with ABVP, the youth wing of RSS, and was also its president.
A lawyer by profession, Apte had been under detention from December 1975 to February 1977 under the stringent Maintenance of Internal Security Act (MISA) during Emergency.
The then BJP president Rajnath Singh had constituted a committee under Apte to go into the reasons for the party's poor showing in 2009 Lok Sabha elections.
He was on the Governing Council of Shikshan Prasarak Mandali, an educational institution running 20 colleges and schools, for about two decades.
His funeral will take place at Dadar crematorium on Wednesday morning, party sources said.
Image: Bal Apte