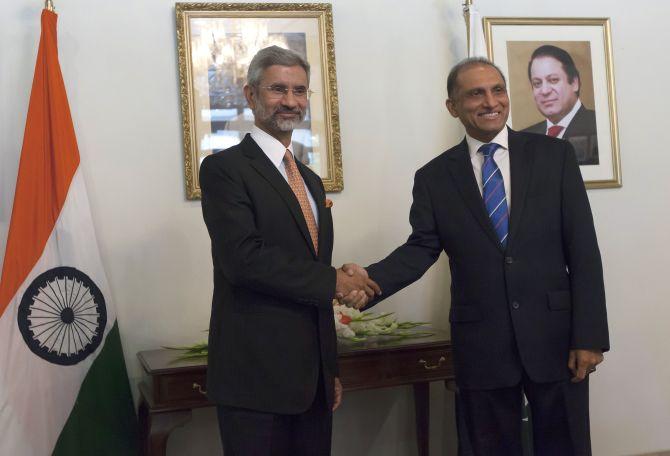 The Shiv Sena on Tuesday said the outcome of the meeting between the foreign secretaries of India and Pakistan on the sidelines of the 'Heart of Asia -- Istanbul Process' conference in New Delhi would be futile.
"We have become tired speaking on this issue (Indo-Pak talks). What would be the benefit of these talks? The two prime ministers met in Lahore. But then what happened? We had the Pathankot terror attack," Shiv Sena leader Sanjay Raut said.
"There is no use of these stop-start talks. We know the outcome, it's futile. The people of this country have been bored with such moves by the government," he added.
Pakistan Foreign Secretary Aizaz Ahmed Chaudhry, who is leading his country's delegation to the Senior Officials Meeting of the Heart of Asia - Istanbul Process, will meet his Indian counterpart S Jaishankar around 11:00 am on Tuesday.
The meeting between the Indian and Pakistani foreign secretaries to restart the Comprehensive Bilateral Dialogue was derailed after the January 2 Pathankot terror attack.
Since then, no date for talks between the foreign secretaries was decided, but both sides have been in touch.
India is expected raise the issue of investigation of the Pathankot attack, apart from discussing modalities of resuming the CBD.
Foreign ministers of both nations had last met on the sidelines of the SAARC ministerial meeting in Kathmandu, Nepal in November last year.