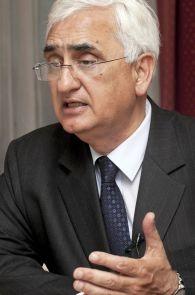 A day after India stepped up security for the United States embassy and other American institutions, External Affairs Minister Salman Khurshid on Fridaysaid the decision was not based on "reciprocity but on threat perception".
He also expressed hope of finding a solution to the diplomatic row that erupted between India and the US after the arrest of Deputy Consul General Devyani Khobragade in New York on charges of making false declarations in a visa application for her maid.
"As far as security is concerned, the matter is dealt with agencies entirely on the merits of security requirement. Security is not based on reciprocity.... It is based on threat perception," Khurshid said on the sidelines of an event.
He went on to add, "Security issues are all to be dealt by security agencies. There is no question of any compromise on security. We have been very careful right through. Reciprocity and matters like convenience, courtesies etc are another matter."
Allaying US' concerns about security of their institutions after barricades outside the Embassy were removed as a fallout of the diplomatic row, as many as 150 police personnel have been deployed during a 24-hour period in shifts at the US embassy, School and American Centre in New Delhi.
Apart from that, two police vehicles have been permanently stationed along various roads near the embassy including Nyaya Marg.
Asked whether the US state department clearance will come this month in the Devyani Khobragade case after the diplomat was transferred to India's permanent mission to the UN to give her full immunity, Khurshid said, "I have never been in state department so would not know how quickly it works. If you asked about MEA, I would tell you."
Queried about the steps his ministry proposes to take on a former researcher with the US embassy reportedly alleging that she was unceremoniously dismissed and forced to sign a resignation letter, Khurshid said every incident must not be seen as a qualifying matter relating to the relationship with the US.
"Every incident must not be seen as a qualifying matter relating to the relationship with the US. It is an issue and there are a couple of issues which we need to tackle," he said.
Although the alleged incident took place over a year back, the woman reportedly decided to go public now in the light of Khobragade episode and wrote to External Affairs Ministry on the issue.
Khurshid, however, hoped that equal amount of sensitivity will be shown from both sides. "I have said that we have a valuable relationship. They must of course agree because thats how we both see it. There are things...domestic law or from our point of view...things that are not justified by the proper understanding of law.... We are in conversation and we will find a solution," he added.