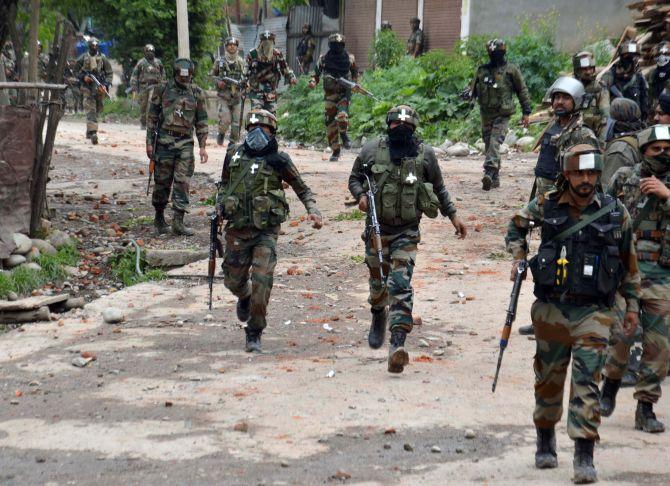 Faced with a stone-pelting mob, security forces called off a cordon and search operation they had launched in south Kashmir's Shopian district on Wednesday, after failing to locate any militants or their hideouts.
The search operation was launched in Heff village in the Zainapora area, an army official said.
He said a large number of security forces were involved in the search operation, which started in the early hours.
However, the operation was hampered by local residents who pelted the forces with stones, a police official said.
He said additional security force personnel were sent to the area to disperse the stone-pelters.
No casualties were reported, the official said, adding that as the forces did not find any militants or hideouts, the operation was called off.
The search operation comes two weeks after a similar but larger operation was launched in Shopian district to flush out militants.
While the security forces did not find anything in the day-long search operations on May 4 spanning nearly two dozen villages and involving more than 4,000 troops, the militants attacked an army patrol as they were retreating from the operations that day, leading to the death of a taxi driver and injury to several security personnel.
Operations in south Kashmir have been intensified in the wake of videos of large groups of militants -- in some cases as many as 30 -- surfacing on the social media, despite a ban imposed by authorities on 22 such sites and applications.
Security agencies believed the videos had been shot in the south Kashmir area, mostly in the Shopian district.
Image used for representational purposes only.