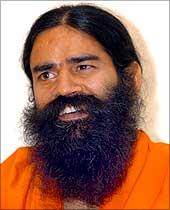 Yoga teacher Baba Ramdev's popularity seems to be spreading to corners of the world -- quite literally.
On September 27, the guru will be inaugurating a yoga retreat at a remote Scottish island called Little Cumbrae that has been bought by a husband-and-wife duo of Indian origin from UK for about £2.5 million, reports The Independent.
The only constructions on the uninhabited Little Cumbrae include a ruined castle, a 12-bedroom mansion and the remains of a lighthouse.
The yoga centre, reportedly being built under the guidelines of Baba Ramdev, will be christened as Peace Island.
A spokesperson for Guru Ramdev, S K Tijarawala, confirmed the development.
'We are setting up a yoga institute and laboratory... to show how traditional knowledge from India can cure the world,' he told the London-based newspaper.
The island is located in North Ayrshire in Scotland, has an area of 1.21 sq m and has a rocky terrain with a rich variety of flora and fauna.
With the opening of the yoga centre, what has been until now an unknown piece of land -- at the most known for its rich birdlife -- may soon become a spiritual hotspot on the global map. 
The present owners of the island -- known by their family name as the Poddars – are also followers of Baba Ramdev and bought the island in July. The Poddars also run the UK centre of Patanjali Yog Peeth Trust, a branch of the Divya Yog Mandir Trust that was established by Baba Ramdev in 1995.
The Poddars were unavailable for comment.
The UK group's web site quotes Baba Ramdev's aim 'to make a disease-free world through a scientific approach to yoga and ayurveda' as being the aim behind the retreat.
However, it is not certain how much time Baba Ramdev would spend on the island, though Tijarawala said he would be a "regular" visitor.
Estate agents HLL Humberts Leisure said it would be the perfect location for those seeking peace. 'It's very secluded. It's a very peaceful place,' they said. 'When the weather is kind, the views are stunning.'
Baba Ramdev, who is seen sporting a long beard and wearing long orange robes, has a following of a whopping 85 million people in India and abroad who also follow his yoga camps that are telecast on national television channels.
The yoga teacher, who sports a long beard and is usually dressed in flowing orange robes, established the Patanjali Yog Peeth Trust in 2006 based in Haridwar, India, where ayurveda and yoga are religiously practiced.
The guru has been hugely popular because of his claims that yoga can cure fatal diseases like cancer and reduce the pain of AIDS. 
However, there have also been criticisms and controversies too. In 2006, it was alleged that the ayurveda medicines of the trust used animal bones. However, after tests, the allegations were proved false. 
Image: Yoga guru Baba Ramdev