The Scottish parliament has voted in favour of holding a second referendum on independence.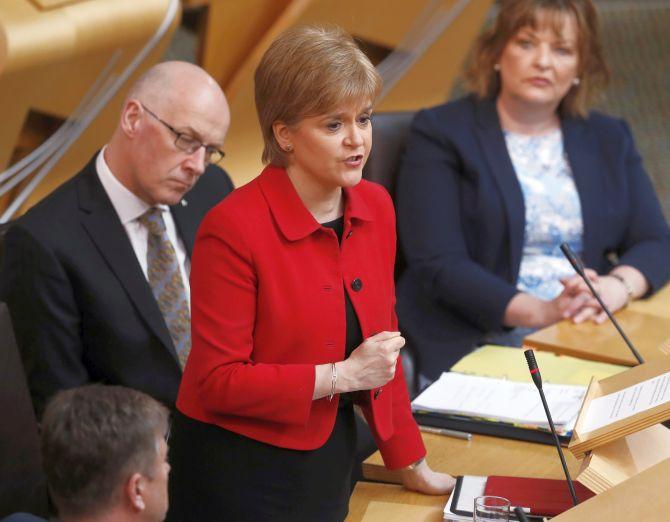 IMAGE: Scottish First Minister, Nicola Sturgeon attends a debate on a second referendum on independence at Scotland's Parliament in Holyrood, Edinburgh. Photograph: Russell Cheyne - WPA Pool /Getty Images
Scottish lawmakers voted 69 to 59 to give the first minister, Nicola Sturgeon, the authority to negotiate with the Westminster government on holding another vote between autumn 2018 and spring 2019.
British Prime Minister Theresa May has indicated she will reject Sturgeon's timetable. Britain is expected to leave the European Union in 2019, and May has said that "now is not the time" for a vote that could break up the United Kingdom.
"Today's vote must now be respected," Sturgeon said afterward, according to Britain's Press Association.
Opening the debate, Sturgeon demanded Westminster should respect the wishes of the Scottish Parliament.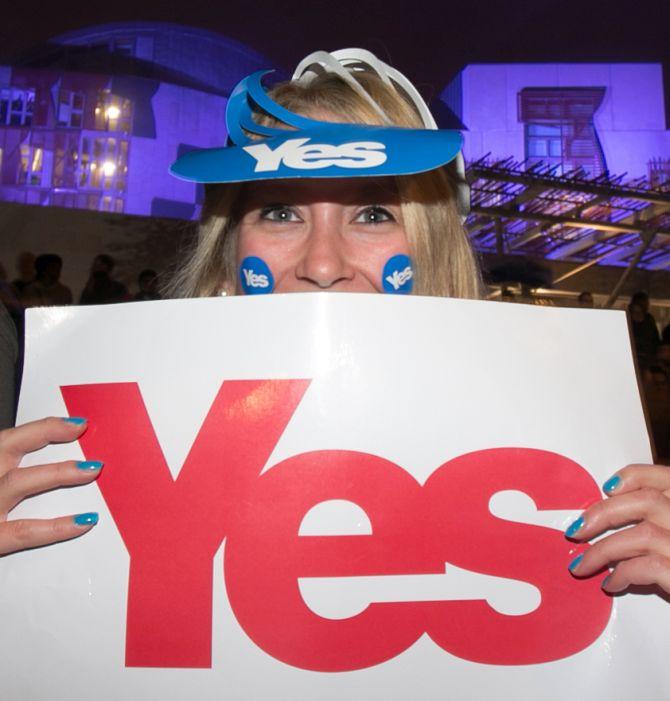 IMAGE: The vote was greeted with jubilation by fist-pumping independence supporters outside the Scottish Parliament building in Edinburgh. Photograph: Matt Cardy/Getty Images
She said: "If it does so, I will enter discussion in good faith and with a willingness to compromise.
"However if it chooses not to do so, I will return to the Parliament following the Easter recess to set out the steps the Scottish Government will take to progress the will of Parliament."
Sturgeon said the referendum should occur "no earlier than 18 months from now, when the terms of Brexit are clear."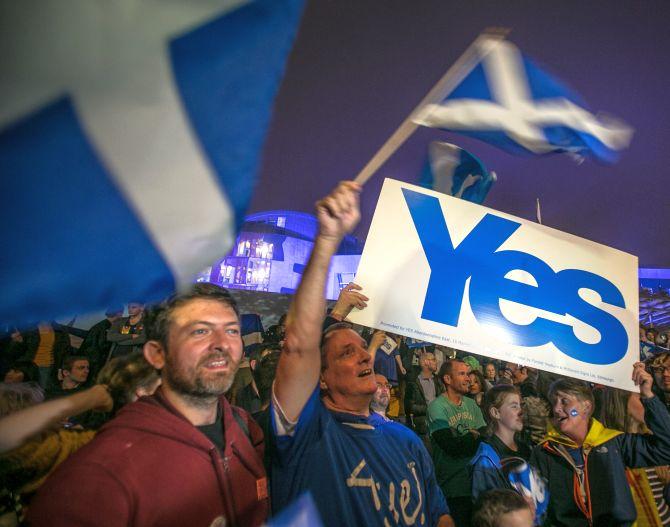 IMAGE:

The pro-independence campaign lost by 10-points at the 2014 referendum and polls do not suggest the level of support has significantly changed. Photograph: Matt Cardy/Getty Images
"This is, first and foremost, about giving the people of Scotland a choice on this country's future," she said, according to the Press Association.
In a failed 2014 referendum on independence, Scotland voted 55 per cent to 45 per cent to remain in the UK. But the Scottish National Party, led by Sturgeon, said the landscape has changed since Britain decided to leave the European Union.
Sturgeon said the Brexit vote is forcing Scotland out of the EU against its will as 62 per cent of Scots voted in June to remain in the bloc.