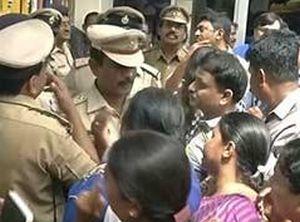 Two days after the sexual assault on a 3-and-half-year-old girl student at a school in Bangalore, police are yet to arrest the culprit, as the state government on Thursday decided to file a criminal case against the institution for violating several rules.
"No arrests and detentions have been made so far in the case. However, we have interrogated many. We are doing our professional best to nab the culprit," Joint Police Commissioner Hemant Nimbalkar told PTI.
The school staff members were being questioned and the CCTV footage being examined by police, Nimbalkar said.
A criminal case has been registered under the Protection of Children from Sexual Offences (POCSO) Act 2012 and IPC section 376 (rape) on a complaint from the father of the child.
The investigating team, led by ACP Sarah Fatima, has examined the footage, capturing the movement of students, faculty and visitors, police said.
Meanwhile, Karnataka Public Instruction Commissioner Mohammed Mohsin told reporters that the education department would file a criminal case against "Orchids, The International School" for violating norms stipulated under Karnataka Education Act.
"The school has permission to teach in Kannada up to fifth class. But it is teaching in English up to seventh class," Mohsin said.
It has also been teaching CBSE syllabus without prior permission for the same. "The school is not affiliated to the Central Board of Secondary Education," he said.
The school has also been running nursery classes without permission, he added.
Earlier in the day, Youth Congress members protested and raised slogans against the school management, for not allowing them to enter its premises.
"We have smeared the school nameboard as it failed to protect its students, and also not allowing us to enter the premises," a leader said.
As per police instructions, the school management held a meeting with the parents' representatives, during which parents expressed their anguish and sought proper security arrangements for girl children and appointment of more women staff.
The school management, in response, had assured parents that adequate steps would be taken to improve security. Another meeting is scheduled for Saturday.
Some women activists also raised slogans against school authorities and urged the government to cancel its licence.
Three cases of sexual assault on minor girls in schools have occurred in the last four months in Bangalore.
An eight-year-old girl was allegedly sexually assaulted by her 63-year-old teacher inside her school premises over a period of time, with the offence coming to the fore in early August, barely a month after the rape of a six-year-old girl at 'Vibgyor High' school.
Public anger over the incident had flared up on the streets leading to police issuing stringent guidelines to schools to ensure safety of children and government amending the Goondas Act to bring sexual offences under its ambit.
Image: Angry parents protest outside the school premises