One person was killed and 32 others injured when an overloaded scaffolding of an under-construction building collapsed in Chennai, police said on Sunday.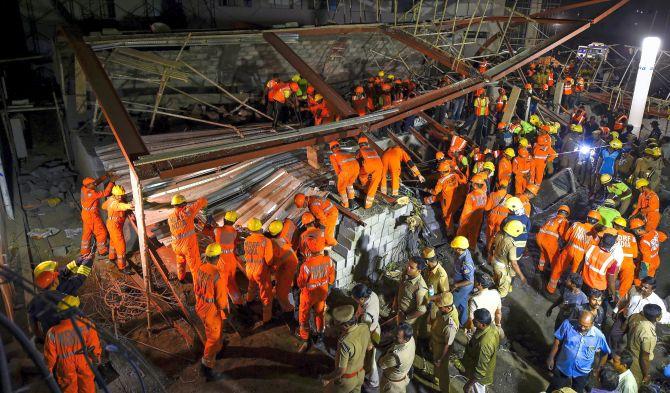 The incident took place around 7.15 pm on Saturday, Tamil Nadu Health Secretary J Radhakrishnan, who visited the spot near Kanthanchavadi, told reporters.
"Unfortunately, one person identified as Bablu died. Twenty-seven people have been rescued and are undergoing treatment as in-patients at hospitals," he said.
Besides, five were treated as out-patients, the health secretary said.
Radhakrishnan said that the chief minister has instructed that there was no need to shift 16 of those undergoing treatment at Apollo hospitals at Old Mahabalipuram Road as the government would bear all the expenses.
Three of those admitted in the hospital have undergone surgery, he added.
Twelve others injured in the incident are undergoing treatment at a government hospital.
The Kanchipuram district collector, and police, ambulance and fire services personnel are working round-the-clock. National Disaster Response Force personnel joined the rescue operations late Saturday night, the health secretary said.
According to the police, a case was registered and investigation is underway.
"All the injured, including the deceased, Bablu, are migrants," police said.