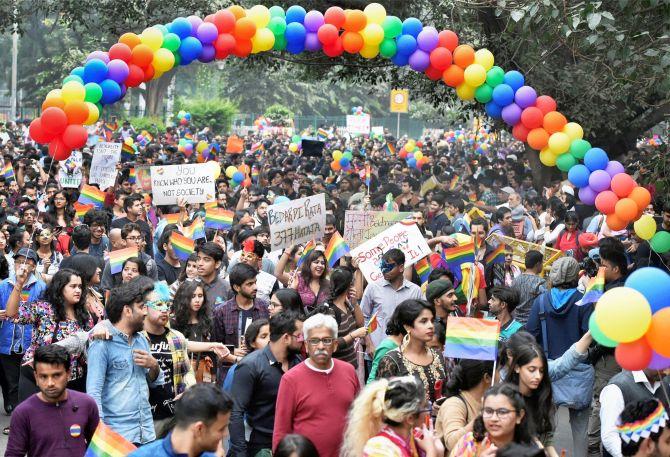 The Supreme Court on Tuesday made it clear that it would not venture into the issue of marriage relating to the LGBTQ (lesbians, gay, bisexual, transgender, queer) community or inheritance in live-in relationships, as it commenced a crucial hearing on a clutch of pleas seeking decriminalisation of consensual gay sex.
The apex court said it would only deal with the question of validity of section 377 of the Indian Penal Code which criminalises consensual sex between two adults of the same gender.
A five-judge constitution bench headed by Chief Justice Dipak Misra said it will examine the correctness of its 2013 verdict that had set aside the Delhi high court judgement decriminalising gay sex under section 377.
Section 377 refers to 'unnatural offences' and says whoever voluntarily has carnal intercourse against the order of nature with any man, woman or animal, shall be punished with imprisonment for life, or with imprisonment of either description for a term which may extend to 10 years, and shall also be liable to pay a fine.
"The question here is whether Section 377 of the IPC is ultra vires (beyond one's legal power) or not. Let us get out of this maze. We cannot now give an advance ruling on questions like inheritance to live-in partners or whether they can marry.
"Those are individual issues we cannot pre-judge now," the bench, also comprising Justices R F Nariman, A M Khanwilkar, D Y Chandrachud and Indu Malhotra, said while outlining the broad issues which would be open for arguments.
The observations came when former Attorney General and senior advocate Mukul Rohatgi, appearing for dancer and one of the petitioners Navtej Jauhar, said, "My life as a sexual minority has to be protected. Do not restrict this hearing to just Section 377 of the IPC. Our lives are passing by. How many of us can come on individual issues later?"
Referring to the provision, the bench said two separate and distinct issues were open for argument and they were whether the sex against the order of nature, as prescribed under the law, was "retrograde" and can the sexual rights be denied to persons just because they form a minuscule minority.
Gay sex unnatural: BJP MP
Bharatiya Janata Party Rajya Sabha member Subramanian Swamy termed gay sex as "unnatural", and said it was a "genetic flaw" in the person and should not be allowed to be celebrated.

He said allowing it would lead to setting up of gay bars which some American investors wanted to do in India.

"Sex with person of the same sex is unnatural. In Hindu tradition we have been sympathetic to there plight. But we have never allowed them to celebrate it and to say that it is a matter of choice," he said.

Swamy, however, said that people should not be discriminated in their normal social interactions and economic matters based on their sexual orientation.

"There is no other flaw in them other than this. And also I am against police going into somebody's bedroom to check whether a person is male or female," he said.
When the hearing was about to commence on the batch of writ petitions, an advocate appearing for NGO Naaz Foundation, which was the first petitioner to approach the Delhi High Court in 2001 on the issue, sought permission to intervene.
The NGO had filed a curative petition after the apex court had rejected its plea seeking review of the 2013 verdict re-crimnalising the consensual gay sex.
Refusing to tag the NGO's plea with the fresh petitions, the bench said, "the curative petitions have limitations and these cases (writ petitions) have no limitation. We will hear you in these matters also".
Opening the arguments, Rohatgi said he wanted a "declaration" from the apex court that the rights of those who formed sexual minority are protected under Article 21 (right to life and liberty) and the first issue would to test the correctness of the top court's judgement.
The LGBTQ community members have been facing persecution and loss of employment, as the society looked at them differently mainly because of the 158-year-old law.
"The LGBTQ community members are equal to other members of society but have a different sexual orientation, which is not a matter of personal choice but an orientation that one is born with," Rohatgi said.
Gender and sexual orientation are different from each other and the fact that one was gay or lesbian was not a matter of choice, as a person was born with it, he said, adding that they cannot be denied their fundamental rights.
He then referred to various judgements, including the Delhi high court verdict on homosexuality, the NALSA judgment on the rights of LGBT community and the nine-judge decision which declared the right to privacy as a fundamental right.
The nine-judge bench had held that decisional autonomy was part of the right to privacy and moreover, six out of nine judges, had ripped apart the 2013 apex court verdict recriminalising the consensual gay sex.
"Justice Chandrachud's (privacy) judgment condemning the 2013 verdict which had upheld section 377 of the IPC, is the main decision. If so, I am already home and dry," Rohatgi said.
Others who have filed petitions opposing section 377 are journalist Sunil Mehra, chef Ritu Dalmia, hoteliers Aman Nath, Keshav Suri and business executive Ayesha Kapur and 20 others, who are former and current students of IITs.
Another senior advocate Arvind Datar, representing one of the petitioners, referred to the historical background of the term 'homosexuals' and said now it has been established that this is "a normal, benign sexual variation".
The proceedings remained inconclusive and would continue on Wednesday.