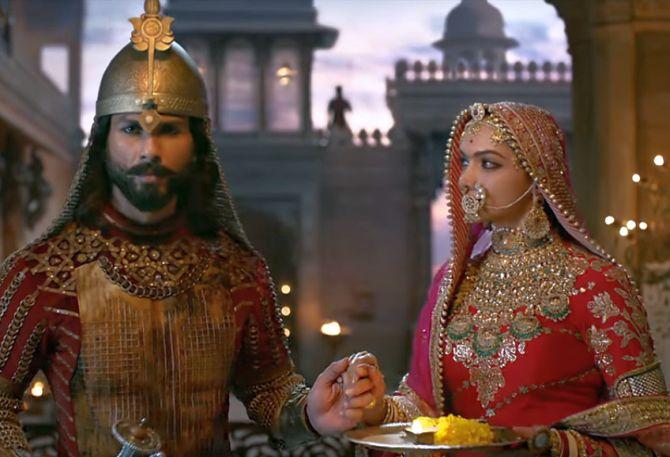 The Supreme Court on Monday dismissed a petition seeking deletion of certain alleged objectionable scenes from Bollywood movie Padmavati, calling it "premature".
A bench headed by Chief Justice Dipak Misra observed that the Central Board of Film Certification has not yet given certificate to the movie and the apex court cannot "injunct" a statutory body from doing its duty.
"We have been apprised that the film has not yet received the certificate from the CBFC. In view of the aforesaid, our interference in this writ petition will tantamount to pre-judging, which we are not inclined to do," the bench, also comprising Justices A M Khanwilkar and D Y Chandrachud, said.
The bench also struck off certain paragraphs from the plea filed by advocate M L Sharma, saying pleadings in a court "are not meant to create any kind of disharmony in the society".
During the hearing, Sharma raised the issue of songs of the movie being released without getting a certification from the CBFC.
He alleged that part of the Deepika Padukone-Ranveer Singh-Shahid Kapoor starrer was released despite the fact that the CBFC had returned application, seeking grant of certification for the movie, to the filmmakers as it was incomplete.
Senior advocate Harish Salve, representing one of the respondents, countered the submissions and said the film's promo was released and it has got the requisite CBFC approval.
When the petitioner repeatedly alleged that part of the film has been released, the bench observed, "the censor board has a definite role. They will see the guidelines which are there in the act (Cinematograph Act). That is their duty. We are on other things. Should the Supreme Court intervene in stopping a movie?"
The petitioner alleged that there was "character assassination" of Rani Padmavati in the film and the CBFC would not go into these aspects.
The bench then elaborated on the functioning of the CBFC in certifying a film and said "the CBFC is a statutory body. How can the court injunct a statutory body not to exercise its duty?"
It also said the court cannot direct the CBFC to decide a matter in a particular manner as it was for the board to take a call.
Salve told the court that the CBFC had sought from the filmmakers some documents which they have already filed and whatever was being shown at present has got the approvals.
Sharma had approached the court seeking a direction for removal of all scenes of alleged 'character assassination' of Queen Padmavati from the movie before its release.
Viacom 18, the makers of the film, had earlier said that they have deferred the movie's release which was originally scheduled on December 1.
The set of the movie was vandalised twice -- in Jaipur and Kolhapur -- and director Sanjay Leela Bhansali was roughed up by members of Karni Sena during the Jaipur schedule of the film earlier this year.