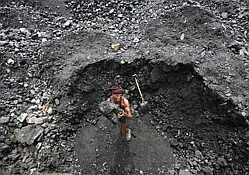 The Supreme Court on Thursday directed the Enforcement Directorate to file by February 8 the status report on its probe into coal scam for suspected money laundering and foreign exchange rules violations.
A bench headed by Justice R M Lodha also directed the Central Bureau of Investigation and the Enforcement Directorate to share information related to coal scam probe.
The CBI's status report, that was submitted on January 13, would be considered on February 10, when the court would also be appraised about the grievances made by the CBI for autonomy including granting its director ex-officio powers of secretary.
The CBI told the court that "substantial" progress has been made in the coal cases and it may conclude all preliminary enquiries in a month. The court also allowed the CBI's application to initiate sending Letters Rogatory to Malaysia to get its assistance in the probe against a foreign company.
The CBI had sought the court's permission to probe a foreign company that claimed to be a partner of an accused Indian company. The CBI has initiated over 14 regular cases on coal block allocations, including those against Member of Parliament Naveen Jindal and former minister of state for coal Dasari Narayan Rao in relation to coal block allocation and against K M Birla and against former coal secretary P C Parakh for alleged illegality in grant of blocks to Hindalco Industries Ltd.