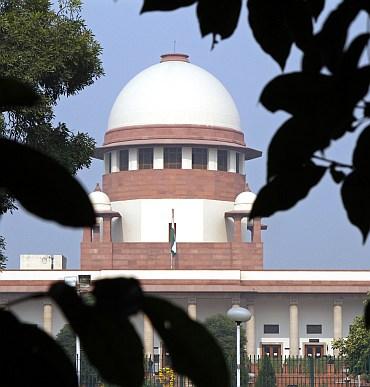 The Supreme Court on Friday agreed to interpret Leader of Opposition provision for the purpose of appointment of Lokpal in which LoP is a selection committee member and asked the Centre to make its stand clear within two weeks, saying the legislation cannot be put in "cold storage".
Emphasising the importance of the post, a bench headed by Chief Justice R M Lodha said Leader of Opposition conveys the voice of a representative different from government in the House. It said LoP is a very important component (under Lokpal law) and the issue needs objective consideration in view of current political situation where at present there is no Leader of Opposition in the Lok Sabha.
The bench also observed that the issue of LoP is relevant not only in Lokpal law but also in other existing and incoming legislations.
It said the issue cannot be prolonged and the act cannot be put in cold storage, while posting case for final disposal for September 9.
Congress, as the second largest party in the Lok Sabha with 44 seats, has been making a strong bid for the LoP post but the ruling Bharatiya Janata Party has not acceded, saying the opposition party does not have the requisite 10 per cent seats which meant it needed 55 to stake claim.
Earlier on April 24, the Centre had informed the court that it would not take any immediate decision on appointment of chairperson and members of the Lokpal. The Centre's submission had come on a notice issued to it by the apex court.
The court had on March 31 sought response from the Centre on a petition filed by an non-governmental organisation questioning entire selection process for appointment of chairperson and members of Lokpal and seeking its stay.
It had asked the Centre to justify the Search Committee (Constitution, Terms and Conditions of appointment of members and manner of selection of panel of names for appointment of chairperson and members of Lokpal) Rules, 2014 framed under the Lokpal and Lokayuktas Act, 2014.
The plea of NGO Common Cause, filed through advocate Prashant Bhushan, had sought to declare "illegal" the rules under which selections were being done.
The PIL had sought a declaration that certain provisions of the rules are ultra vires of the Lokpal and Lokayuktas Act and also sought quashing of the entire selection process initiated under the rules alleging that it is "illegal, arbitrary" and violative of Article 14 of the Constitution.
It had said the government was going ahead with the selection process despite there being serious flaws in the rules under which selections were being done. The petition had also said that Rule 10 (1) provides that the Search Committee shall prepare a panel of persons to be considered by the Selection Committee for appointment of chairperson and members of the Lokpal, from among the list of persons provided by the central government.