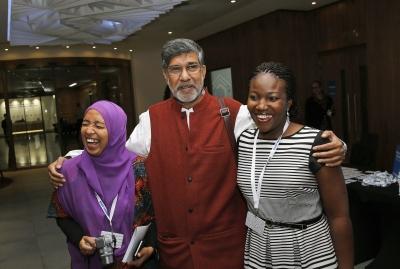 Terming slavery and child trafficking the 'biggest scandal of our times', Indian Nobel laureate Kailash Satyarthi pn Wednesday launched a new campaign in London to end the menace posed by the trafficking 'mafia'.
The 60-year-old campaigner behind India's 'Bachpan Bachao Andolan' launched the 'End Child Slavery Week' campaign in the United Kingdom. Addressing the Trust Women Conference on women's rights in London, Satyarthi called traffickers 'mafia.'
"They are able to earn huge money and bribe law enforcement agencies. So when we try to free those children or oppose the perpetrators in the court, it is dangerous," said the campaigner against child slavery.
Satyarthi, who was the co-recipient of Nobel Peace prize this year for his work fighting child slavery, called for collective action by governments, businesses and campaigners and a strengthening of laws to crackdown on human trafficking at the conference organised by Thomson Reuters.
"It's a big fight. It's not easy...I lost two of my colleagues, one was shot dead and one was beaten to death. I have several scars and injuries on my whole body. Several times my office and home was attacked.
"But every time we free a child from slavery, we feel it is a victory of liberty over slavery," he added. Satyarthi said the joy he feels in that moment is inexplicable as it is 'very, very personal and eternal'.
"Each time I free a child, I feel it is something closer to God," he said. Satyarthi joined former British Prime Minister Gordon Brown at the "Our Future, Our Rights Youth Rising #UpForSchool" event, calling for renewed international action to tackle rights abuses around the world.
Speaking to ITV News channel ahead of the event, he said, "I have come across children who have been kidnapped, trafficked from their native villages and sold for less than animals. "Sometimes the children themselves say that 'we are sold for 5,000 to 10,000 rupees whereas the cattle in our village, a buffalo, has been sold for 50,000 and 100,000 rupees."
Image: Nobel peace laureate and children's rights activist Kailash Satyarthi poses for photographs with participants at the Trust Women conference in London. Photograph: Suzanne Plunkett/Reuters