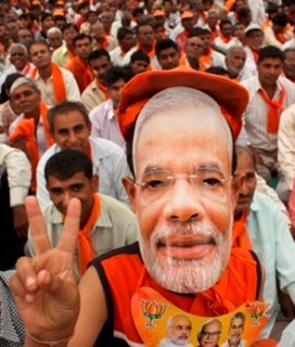 "Truth alone triumphs!" This is how Gujarat Chief Minister Narendra Modi reacted on Thursday to an Ahmedabad court's verdict rejecting a protest petition filed against the clean chit given to him by the Supreme Court- appointed Special Investigation Team in the 2002 communal riots.
The protest petition was filed by Zakia Jafri, whose husband Ehsan Jafri, a former Congress MP, was killed in the Gulbarg Housing Society massacre along with 67 others.
"Satyamev Jayete! Truth alone triumphs," Modi tweeted on micro-blogging site Twitter.
The verdict by Metropolitan Magistrate B J Ganatra came as a huge relief to the BJP's prime ministerial candidate in the run up to the 2014 general elections.
Image: A supporter of Narendra Modi shows the victory sign