At least 350 people were killed and over 200 injured in a stampede at a religious fair in Wai in Satara district of western Maharashtra on Tuesday afternoon.
Maharashtra Govt relief and rehabilitation division | Emergency numbers
Additional Director General of Police (Maharashtra) V N Deshmukh said the casualty figures would be substantial as four state transport buses full of injured people had been sent to various hospitals in Satara.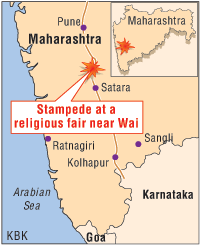 The stampede occurred during the annual Mandra Devi Yatra at the Mandra Devi temple, located on a hill in Wai, sources said.

According to preliminary reports, a short circuit led to the stampede.
Reuters quoted Satara collector Subrao Patil as saying that the toll does not include those charred to death in the shops that were gutted in the fire.
Another local official told Reuters that 150 bodies had already been recovered.
A narrow path that leads to the temple was soon packed with devotees, around 200,000 according to some estimates, trying to escape the fire and the melee, making it difficult for rescue teams to reach the spot.

Maharashtra Chief Minister Vilasrao Deshmukh and his deputy R R Patil have rushed to Wai.

Speaking to reporters at Mantralaya in Mumbai before leaving for Satara, Deshmukh said: "We have received information of some deaths, but do not know the exact figure."
Maharashtra Governor S M Krishna expressed deep shock and sorrow over the incident and said, "I convey my heartfelt condoloences to the members of the bereaved families and pray for the speedy recovery of injured."
With PTI Inputs

External Link:
Mandhardevi Temple