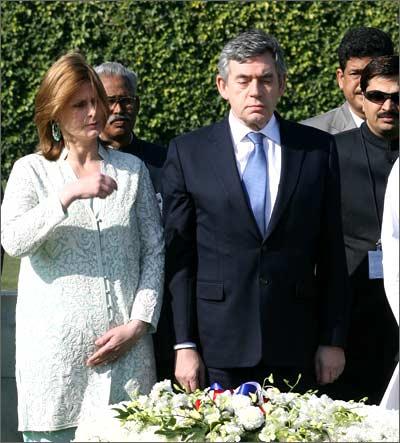 Economic strengthening was the purpose of British Prime Minister James Gordon Brown's visit to India last week -- a great biz op for  Indian businessmen. 
But his visit is likely to have made loads of Indian fashion designers sit up and take notice.
Why, you ask?  
Well, because the media-shy lady accompanying him, Sarah Brown, his wife of seven years (she has apparently never given an interview to the press so far), was togged out in Indian designer wear from head to toe on her visit.
Indeed, the famous designer duo Abu Jani and Sandeep Khosla outfitted Britain's first lady, in exotic, trademark designer creations worth 8,000 pounds, assembled from oodles of embroidered silk, ahead of the Browns' trip to the subcontinent.
Sarah Brown, 43 -- who hails from middle Engand, is half Scottish and was once a publicity consultant for a private firm -- has rarely turned the limelight onto herself. But her appearance at several Delhi engagements attired in delicate, flowing silk kurta-salwar ensembles -- a major contrast from her strictly sober, sturdy skirt-jacket suits -- made a small splash.  
Jani and Khosla, who now have a boutique in London, have been associated with the wardrobes of several of Europe's beautiful people. Folks ranging from actors Dame Maggie Smith, Dame Judi Dench and Sophie Marceau have often sported their label. Dench wore an Abu Jani-Sandeep Khosla outfit to the Oscars as well.  
Photograph: Sarah Brown in an Abu Jani-Sandeep Khosla outfit, by her husband British Prime Minister Gordon Brown's side, at Mahatma Gandhi's samadhi in Delhi. Photograph: Raveendran/AFP/Getty Images