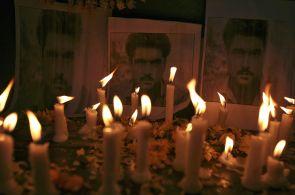 Those responsible for the murder of Indian death row prisoner Sarabjit Singh will be brought to justice, Najam Sethi, the caretaker chief minister of Pakistan's Punjab province, Thursday assured Indian High Commissioner Sharat Sahbarwal.
Sethi conveyed the assurance during a meeting with Sahbarwal in the provincial capital, officials in the chief minister's office told PTI.
The Indian envoy, who was on a scheduled visit to Lahore, met Sethi to discuss the issue of Sarabjit.
A judicial inquiry will fix responsibility for the murder and action will be taken according to its findings, Sethi was quoted as saying by the officials.
Sethi further said his government will facilitate Indian officials in sending Sarabjit's body back to India.
Sethi said he hoped Sarabjit's murder will not affect relations between India and Pakistan.
He said: "I believe in a peaceful relationship with India as people-to-people contacts will help improve relations between the two countries".
He said both countries need to fight poverty and to direct their energies towards the economic progress of the people.
Shortly before the meeting with the Indian envoy, Sethi ordered the judicial inquiry into the murder of Sarabjit, who died in JinnahHospital early this morning after being comatose for nearly a week following an assault by other prisoners of Kot Lakhpat Jail.
Police today added murder charges to an FIR registered against two death row prisoners -- Amer Aftab and Mudassar -- booked for attacking Sarabjit.
No action has been taken so far against officials of the jail for failing to provide adequate security to Sarabjit.
Sarabjit, 49, was convicted of alleged involvement in bomb attacks in Punjab province that killed 14 people in 1990 and spent about 22 years in Pakistani prisons.
His mercy petitions were rejected by the courts and former President Pervez Musharraf.
The previous Pakistan Peoples Party-led government put off Sarabjit's execution for an indefinite period in 2008.
Sarabjit's family says he was the victim of mistaken identity and had mistakenly strayed across the border in an inebriated state.
Image: A candle-tribute for Sarabjit Singh in Amritsar on Thursday
Photograph: Munish Sharma/Reuters