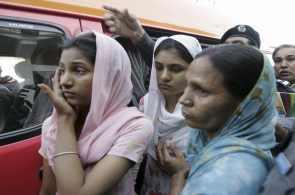 The distraught family of deceased Sarabjit Singh reached their native village Bikhiwind in Tarn Taran district of Punjab on Thursday evening.
Dalbir Kaur, sister of Sarabjit, along with his wife Sukhpreet Kaur, his daughters Swapandeep Kaur and Poonam descended at local airport by a private plane from Delhi. The family after a brief halt at the airport left for their Bikhiwind village by an official chopper, officials said.
The funeral van decked with flowers and a tricolour had been stationed to carry the body of Sarabjit expected later in the evening from Lahore. At the Amritsar airport a strong posse of policemen was deployed to present a guard of honour.
People from across the spectrum, including political high ups and administrative officials have been waiting for the body of Sarabjit.
National Commission of SC Vice Chairman Raj Kumar Verka said that the cremation of Sarabjit will take place on Friday with full state honours. Union Minister of State for External Affairs Preneet Kaur is scheduled to attend the cremation on behalf of the Centre.
At Bikhiwind village, an inconsolable Dalbir Kaur in a hysteric condition said, "Pakistan will have to pay for it what it did with her brother." She launched a tirade against the Centre saying, "Had the government done ten per cent of what it did now her brother could have been saved."
"I have lost everything," she said on being questioned whether Rs 25 lakh grant announced by the government for the family was enough. Meanwhile, official sources said that the family of Sarabjit has given consent for conducting a postmortem in India.
The postmortem is expected to be done after the body arrives from Lahore in Pakistan.

Image: Sukhpreet Kaur, the wife of prisoner Sarabjit Singh, with her daughters Swapandip and Poonam | Photograph:
Mohsin Raza/Reuters