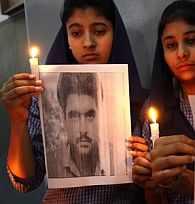 Bharatiya Janata Party activists on Sunday held a protest demonstration at Attari along Indo-Pak border in Amritsar against the Pakistani government over the death of Sarabjit Singh in a Lahore hospital following a murderous assault on him.
The party activists, led by its state unit chief Kamal Sharma, raised anti-Pak slogans and protested against the "brutal killing" of Sarabjit.
"Pakistan's action is devoid of any respect for basic human rights and asked the neighbouring country to stop giving shelter to the terrorists against India," party vice-president Rajinder Mohan Singh Chhina, who was also present on the occasion, said. He also blamed the United Progressive Alliance government for its "weakness" to deal with hostile neighbours, and asked the Centre to show that it has strong will to protect its citizens from such brutalities.
Meanwhile, the police used mild force and water canons against the agitating workers as they broke the barricades and tried to run towards international border with Pakistan.
Later, over 200 workers and leaders were detained at Gharinda Police station but were later released by the authorities.