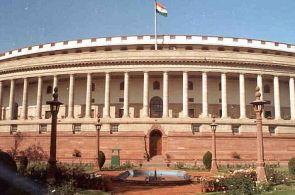 The government which introduced amendments to the landmark Food Security Bill in the Lok Sabha Thursday could not get it passed as opposition stalled proceedings in the House over killing of Sarabjit Singh in Pakistan and other issues.
Food Minister K V Thomas moved amendments to the National Food Security Bill, which was originally introduced in Parliament in December 2011, but no discussion on it could take place as the Opposition-led by Bharatiya Janata Party persisted with protest over Sarabjit Singh's death.
The cause was also not helped as other members raised issued like Chinese incursion and coal-gate scam, forcing adjournment of the House for the day without passage of the measure.
"We are confident of the passage of Food Bill in Parliament," Food Minister K V Thomas said.
The proposed Food Bill, the UPA government's ambitious social welfare programme, aims to provide legal right over subsidised foodgrains to 67 per cent of the population. Over 55 amendments have been proposed in the bill.
Major changes include doing away with priority and general classifications of beneficiaries and providing uniform allocation of 5 kg foodgrains (per person) at fixed rate of of Rs 3 (rice), Rs 2 (wheat) and Rs 1 (coarse grains) per kg to 67 per cent of the country's population.
Protection to 2.43 crore poorest of poor families under the Antodaya Anna Yojana (AAY) to supply of 35 kg foodgrains per month per family would continue.
That apart, nutritional support to pregnant women without limitation are among other changes proposed in the Bill.
At the proposed coverage of entitlement, total estimated annual foodgrains requirement is 61.23 million tonnes and is likely to cost the exchequer Rs 1,24,724 crore.