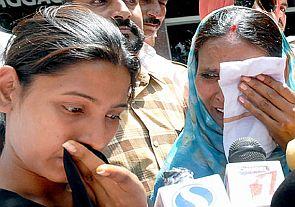 Four members of Sarabjit Singh's family will travel to Pakistan on Sunday to meet the death row convict who is battling for life in Lahore after being brutally assaulted by jail inmates.
The Pakistan High Commission in Delhi has issued 15 days 'gratis visa' to Sarabjit's wife Sukhpreet Kaur, daughters Poonam, Swapandeep Kaur and his sister Dalbir Kaur to meet the Indian prisoner who is in "deep coma" and put on ventilator support.
Sarabjit, 49, was convicted for alleged involvement in a string of bomb attacks in Punjab province in Pakistan that killed 14 people in 1990. His mercy petitions were rejected by the courts and former President Pervez Musharraf.

His family says he is a victim of mistaken identity and had inadvertently strayed across the border.
Dalbir Kaur said that the Pakistan High Commission in Delhi has issued visa to four members of the family and they will cross the Attari border on Sunday.
She said officials have informed her that Pakistan government has allowed one family member to stay in the Lahore hospital where Sarabjit, whose condition continues to be critical, is under treatment.

In Delhi, Prime Minister Manmohan Singh termed the assault on Sarabjit inside jail as a "very sad" incident.
"It is very sad. I think in the jail, I think some inmates attacked him. I think that is very sad," he said when asked about the attack on Sarabjit.

BJP attacked the government for not taking concrete steps in Sarabjit's case, saying the attack on him inside a Pakistani jail reflects the "total failure" of India's foreign policy.

"It is a very sad incident. The Government of India should take stern and effective steps in this case. Sarabjit's incident proves finally that India's diplomatic clout and foreign policy has been totally demolished," BJP spokesperson Sudhanshu Trivedi said in Delhi.
In Bangalore, senior BJP leader M Venkaiah Naidu slammed the "weak and meek" response of the government to Sarabjit and other issues, including the Chinese incursion.
"It is a spineless government. Not just this episode. Even when two Indian soldiers were beheaded (by Pakistan), the government did not utter a single word," Naidu told reporters.
Punjab's Deputy Chief Minister Sukhbir Singh Badal said Pakistan had failed to respond to the plea seeking pardon for Sarabjit. "Government of India should take up the issue with Pakistan very strongly," he said.
Pakistan High Commission's Press Attache Manzoor Ali Menon said the visa for Sarabjit's four family members is for Lahore and Nankana Sahab "as requested on priority basis".
After the attack on him in the Kot Lakhpat Jail, Sarabjit was rushed to a hospital where he was in a "deep coma" and has been put on ventilator support.

Meanwhile, local MLA and National Commission of Scheduled Castes vice chairman Raj Kumar Verka, who personally secured the visas of the four family members, said, "Pakistan has assured to extend the visas by another 15 days."
He said the Pakistan High Commission has assured that adequate security would be provided to the family members from the moment they reach Wagah border on Pakistan side through Attari.
"The family would be provided vehicles with heavy security to facilitate them to reach hospital where Sarabjit is undergoing treatment," Verka said.

With tears in her eyes, Dalbir Kaur said the family is constantly praying to Almighty so that Sarabjit could be repatriated to India alive.
In a related development, residents of Bikhiwind village assembled outside Sarabjit's house and raised anti-Pakistan slogans and burnt effigy representing the neighbouring nation. The villagers also observed a bandh in protest against the attack on Sarabjit.