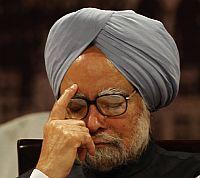 India on Thursday demanded justice from Pakistan after the death of Sarabjit Singh in a "barbaric" attack in a Lahore jail with Prime Minister Manmohan Singh saying it was "'particularly regrettable" it did not heed pleas to take a humanitarian view of the prisoner's case.
As an outraged government and political parties across the spectrum showed solidarity with 49-year-old Sarabjit's family, his sister Dalbir Kaur said he should be declared a martyr.

Prime Minister Singh said Pakistan should ensure that those who are responsible were punished.
Hailing Sarabjit as a "brave son of India", he attacked Pakistan for not heeding to pleas for taking a humanitarian view on this issue after the attack by the jail inmates.
In a statement in New Delhi hours after Sarabjit succumbed to injuries suffered in last week's assault, Singh underlined that the criminals responsible for "the barbaric and murderous attack must be brought to justice".
"I am deeply saddened by the passing away of Sarabjit Singh. He was a brave son of India who bore his tribulations with valiant fortitude," the Prime Minister said in his condolence message.
"It is particularly regrettable that the government of Pakistan did not heed the pleas of the government of India, Sarabjit's family and of the civil society in India and Pakistan to take a humanitarian view of this case," he said.

Asserting that Sarabjit's death was a killing of an Indian citizen while in the custody of Pakistan jail authorities, the External Affairs Ministry demanded that Pakistan conduct a through probe into the incident to ensure that those who are responsible were punished.
BJP termed as a "cold blooded murder" the death of Sarabjit.
"It is a cold blooded murder. This is not the way civilised nations behave," BJP leader Sushma Swaraj wrote on microblogging site Twitter.
External Affairs Minister Salman Khurshid said he was "extremely anguished".
Union Minister Manish Tewary said that what happened to Sarabjit was "extremely inhuman and barbaric" since India has been pressing with Pakistan to take a humanitarian view in his case.

Punjab Chief Minister Parkash Singh Badal demanded an independent probe by an international agency into the circumstances leading to death of Sarabjit.
Badal also criticised the Centre's approach in handling the matter.