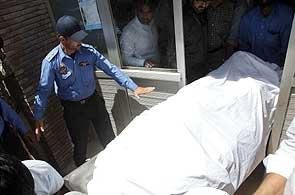 The motive behind the attack on Indian prisoner Sarabjit Singh in a Pakistani prison was to "kill him," a panel of doctors, which conducted the second autopsy, said on Friday.
"It was a clear case, the motive of the attack (on Sarabjit) was to kill him," said Dr H S Rai, head of the Forensic Science Department of the Government Medical College and Hospital in Amritsar, who led the five-member doctors' panel.
Sarabjit's second post-mortem, after the first one at Lahore in Pakistan, was conducted by the panel, which also comprised Sudhir Khichi, head of surgery, H S Sohal, head of medicine, Amarjit Singh, head of pathology and Veena Chatrath, head of anaesthesia.
Sarabjit's body bore multiple injuries, indicating that there were certainly more than two persons who attacked him inside the jail, the report said.
"A single man cannot harm a healthy person like Sarabjit the way he received injuries. There were certainly more persons who attacked him," one of the doctors said, adding that the injuries were 6-7 days old.
Sarabjit's skull was broken into two pieces, his jaw and bones were fractured and certain vital organs from the body were missing, the doctor said.
"Some parts, which are vital for conducting autopsy, were missing," he said, adding that they have sought the report of the first post-mortem conducted at Lahore to arrive at a clear conclusion on the circumstances leading to Sarabjit's death.
The missing organs included the heart, gall bladder and kidneys. Five of Sarabjit's ribs were fractured.
"The brain area had a severe injury. The brain was missing and the injuries were caused by heavy blunt weapons," the doctor said.
However, no injuries were found to have been caused by sharp-edged weapons as some of the wounds were stitched and the scalp was swollen, he said, adding that there were at least 6 to 7 injuries on the head.
The real cause of death can only be known after the viscera report is submitted, doctors added.