Devotees from as far away as Nepal throng Sant Rampal's ashram for blessings, particularly the kheer made from the milk in which he takes his daily bath. That's how revered the godman is. But all that might be coming to an end, Archis Mohan and Sahil Makkar report.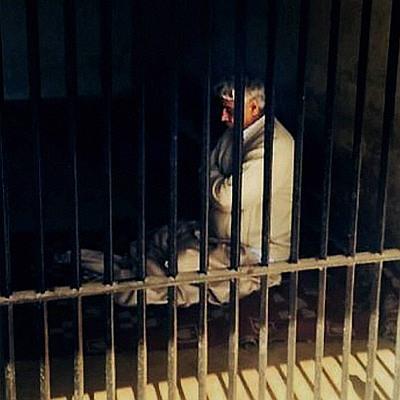 Rampal Dass, better known as Sant Rampalji Maharaj, was sent to judicial custody on Thursday for his alleged involvement in a 2006 murder.

Dass, sacked as a junior electrical engineer from the Haryana government's irrigation department in 2000, today lords it over a cult that is worth Rs 100 crore.

He owns a 12-acre ashram in Hisar and a fleet of expensive cars. Such is his following that influential Haryana politicians had queued up at his doorstep before the recent assembly elections in the state to seek his "blessings" for party candidates.
Dass is said to have driven a hard bargain with both the Congress and Bharatiya Janata Party (BJP), something that endeared him to neither of the two parties.

There were other interest groups and sects already concerned at the seer's rapidly growing popularity.

Arya Samaj, the sect that has a significant influence in Haryana, has been upset ever since Dass allegedly insulted its founder, Dayanand Saraswati, in 2006.

This resulted in a clash between the two sets of supporters that led to the death of a woman.
This is when Dass' legal troubles started. He was arrested, spent time in jail in 2008 and eventually shifted base from Hisar to Rohtak.

He refused to respond to umpteen summons, leading the Punjab and Haryana High Court to issue orders for his arrest.

The consequent 10-day standoff saw Dass' private army, said to have been trained by retired police and Army personnel, and thousands of his supporters trying to prevent his arrest.
The episode has led to accusations between the Congress and the Bharatiya Janata Party of having provided patronage to the godman. BJP has alleged that the recently ousted Bhupinder Singh Hooda-led Congress government gave Dass protection in recent years.

Deepender Singh Hooda, the former Haryana chief minister's son and MP from Rohtak, tweeted to deny that any of his family members was a devotee of the seer.

BJP is also busy denying that its leaders requested Dass to support its party candidates in the assembly elections.

The new Manohar Lal Khattar-led administration has come under attack for its perceived laxity in dealing with the situation and seemingly giving Dass a long rope, including lodging a difficult-to-prove sedition case against him and his followers.

For a man this influential and controversial, Dass had rather humble beginnings.

He was born into a family of farmers in a village in the Sonepat district in 1951. He obtained a diploma in engineering and found himself a government job. In the late-1990s, Dass met Ramdevanand, a seer who influenced him into taking the path of spirituality.

Soon, Dass' discourses started drawing large crowds. Many also came to him for the herbs he prescribed for myriad ailments. Dass stopped attending office, claimed to be the incarnation of 15th century mystic Kabir, and opened an ashram in Rohtak in 1999 on land donated by a follower.

His first setback came in 2006. He then insulted the founder of the Arya Samaj in Rohtak and become anathema to the Arya Samajists; he had to eventually leave the city.
The shift to Hisar was well thought out since the Arya Samaj has only a marginal influence in the region. Here, the patronage of friends in high places helped his ashram grow. According to some of his devotees, Dass understands and speaks with animals and is an incarnation of God.

Devotees from as far away as Nepal throng his ashram for blessings, particularly the kheer made from the milk in which he takes his daily bath.
Sources in the state bureaucracy say that the political patronage that Rampal has drawn these past several years might be coming to an end.

The Congress no longer wants to have anything to do with the godman, while the Rashtriya Swayamsevak Sangh isn't pleased with the presence of dozens of such cults in the Haryana and Punjab region.

These men, the Hindu outfit believes, have become immensely influential among the region's poorer communities, particularly Dalits, and keep the Hindus there divided.