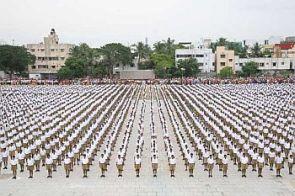 After Rahul Gandhi's remark accusing Rashtriya Swayamsevak Sangh of having killed Mahatma Gandhi, Union Minister Salman Khurshid on Friday went a step further alleging that the Sangh volunteers had distributed sweets in their homes after the assassination.
"The RSS workers killed Mahatma Gandhi and after his assassination they distributed sweets in their homes," the Union Minister of External Affairs told reporters at Kaiamganj.
Khurshid, who was on a visit to his constituency, said that Sardar Vallabh Bhai Patel had imposed a ban on the RSS.
While addressing a rally in Thane district of Maharashtra on March 6, the Congress vice president had alleged that it was "RSS people" who had killed Mahatma Gandhi.
"RSS people killed Gandhiji and today their people (BJP) talk of him...They opposed Sardar Patel and Gandhiji," Rahul had said in his speech, drawing strong criticism from BJP and RSS.
Image: RSS cadre attend a convention in Kolkata ' Photograph: Reuters