Democrat Bernie Sanders on Wednesday squarely defeated Hillary Clinton in West Virginia, in a reminder to the frontrunner that she was yet to wrap up her own presidential nomination before taking on Republican Donald Trump, who cruised to victory in two more states.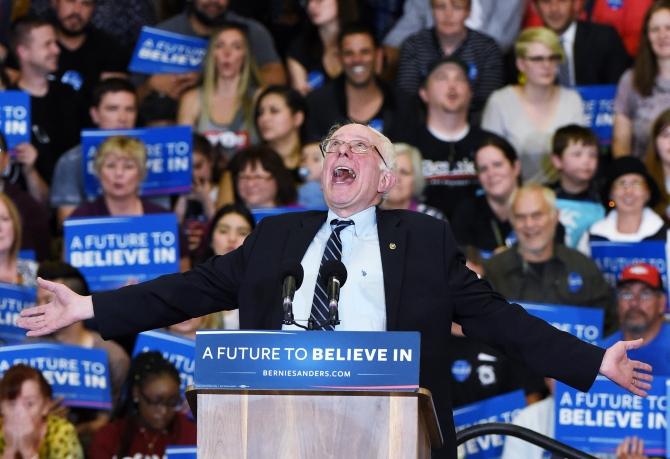 Sanders, 74, the senator from Vermont, easily won the primary in West Virginia by more than 15 percentage points but acknowledged that he has an uphill climb in terms of becoming the party's nominee.
Sanders' win is unlikely to prevent the 68-year-old former secretary of state from emerging as the presumptive Democratic nominee, given that she has a massive lead over him in the delegates count, but at the same time ensuring that Clinton's ticket for the race to the White House is not a cake walk.
Sanders has won 19 states to Clinton's 23, but she is 94 per cent through the way to winning the nomination -- just 144 delegates short of the 2,383 required.
As a consolation, Clinton won the Nebraska primary, but she is not getting any delegate from it. The delegates were allocated in the March 5 primary, which was won by Sanders.
Clinton received 10 delegates as against Sanders' 15.
Addressing a rally in Salem, Oregon after the victory, Sanders said: "We now have won primaries and caucuses in 19 states. Let me be as clear as I can be. We are in this campaign to win the Democratic nomination."
He, however, acknowledged that he has an uphill climb in terms of becoming the party's nominee, but said he would continue his fight till the end of the primary season. He also hinted that he would seek to unite the party in a general election if he fails to win the nomination.
"While we have many disagreements with Secretary Clinton, there is one area where we agree and that is we must defeat Trump."
In the Republican camp, the sole candidate Trump won both the primaries in West Virginia and Nebraska taking his total delegate count to 1,107.
Trump now needs just 130 delegates to officially become the presidential nominee of the party in July. After the win, the 69-year-old real estate tycoon tweeted: "Thank you West Virginia!" and "Thank you Nebraska!"
"It is a great honour to have won both West Virginia and Nebraska, especially by such massive margins. My time spent in both states was a wonderful and enlightening experience for me," Trump said in a statement.
"I learned a lot, and that knowledge will be put to good use towards the creation of businesses, jobs, and the strengthening and revival of their economies. I look forward to returning to West Virginia and Nebraska soon, and hope to win both states in the general election," he said.
"Likewise, my time spent last week with the great people of Oregon will hopefully lead to another victory next Tuesday," said Trump, who was attacked for the first time by Sanders.
A latest opinion poll released today revealed that Sanders defeated Trump in a hypothetical match in the November general elections, but Sanders conceded that he has an uphill climb while referring to the latest delegate count, according to which Clinton leads Sanders by 1,705 to 1,415 in pledged delegates and 523 to 39 in super delegates.
Thus Clinton has an overall lead of 2,228 to 1,454. This means she could lose all the states left to vote by a landslide and still emerge as the nominee, so long as all her supporters among the party insiders known as super delegates continue to back her.
Sanders now hopes that the super delegates would tilt towards him.
"Now, we fully acknowledge we are good at arithmetic, that we have an uphill climb ahead of us, but we are used to fighting uphill climbs. We have been fighting uphill from the first day of this campaign when people considered us a fringe candidacy," he said.
Sanders win also highlights voters' concerns about the economy and signals the difficulty Clinton may have to face in industrial states in the general election.
Meanwhile, Clinton has shifted her focus to the general election even as the primaries continue. "I don't care about what he says about me," she said of Trump on Tuesday night in Louisville, Kentucky, where she released a proposal to ensure families do not spend over 10 per cent of their income on child care.
"But I do resent what he says about other people, other successful women, women who have worked hard, women who have done their part," she added.
IMAGE: Sanders jokes around as he speaks during a campaign rally. Photograph: Ethan Miller/Getty Images