US Democratic presidential front-runner Hillary Clinton cited her efforts to get India and China committed to cutting greenhouse gas emissions during a heated debate with rival Bernie Sanders as the two clashed aggressively over economic growth and energy security.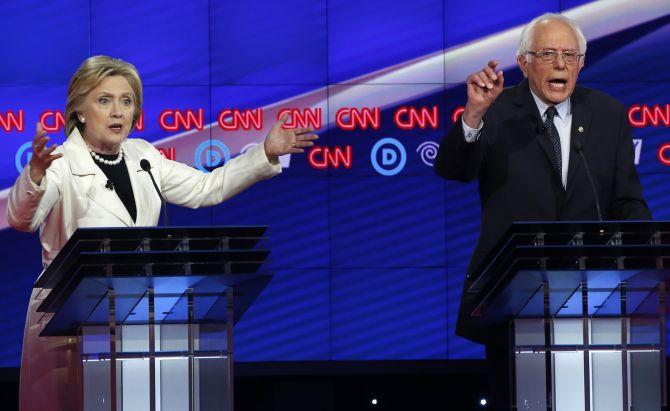 Clinton and Sanders, meeting for the debate in Brooklyn just days before the crucial presidential primary in New York on April 19, minced no words as they attacked each other over their stand on gun control, Clinton's handling of the Libyan crisis and their readiness for assuming the presidency.
When asked about energy security and environment, Clinton alluded to efforts made by her as Secretary of State to help find solutions for the global environmental crisis.
"Starting in 2009 as your Secretary of State, I worked with President Obama to bring China and India to the table for the very first time, to get a commitment out of them that they would begin to address their own greenhouse gas emissions," she said.
68-year-old Clinton, who served as senator from New York for eight years, added that she continued to "work on that throughout the four years" as Secretary of State, and was "very proud" when Obama and America led the way to the climate agreement reached in Paris with 195 nations on board.
She slammed Sanders, 74, for attacking the agreement, saying that getting 195 nations together on any agreement "was a major accomplishment".
Sanders continued his criticism of the Paris climate deal, saying lots still need to be done to translate the agreement on paper into concrete results.
"Of course the agreement is a step forward, but you know agreements and I know agreements, there's a lot of paper there. We've got to get beyond paper right now. We have got to lead the world in transforming our energy system, not tomorrow, but yesterday," he said.
Sanders began the debate questioning Clinton's judgement to lead the nation.
"Does Secretary Clinton have the experience and the intelligence to be a president? Of course she does. But I do question her judgment. I question a judgment which voted for the war in Iraq," he said to applause from the audience that throughout the debate booed and cheered for both candidates.
Sanders called the Iraq war "the worst foreign policy blunder" in the history of the US and criticised Clinton for "virtually every disastrous trade agreement which cost us millions of decent-paying jobs".
"I don't believe that that is the kind of judgment we need to be the kind of president we need," he said.
Clinton also slammed Sanders on his response to foreign policy issues, saying he "could not answer about Afghanistan, about Israel, about counterterrorism, except to say if he'd had some paper in front of him, maybe he could."
According to new polls, Clinton is leading her Democratic rival by 17 percentage points among likely Democratic primary voters in the EmpireState.
Sanders also slammed Clinton for her "speeches to Goldman Sachs" for USD 225,000 a speech.
When asked how he would bring outsourced jobs back to the United States without affecting the cost of goods to America's middle class and poor, Sanders said to begin with he would raise the minimum wage to 15 dollars an hour.
"While it is true we may end up paying a few cents more for a hamburger in McDonald's, at the end of the day, what this economy desperately needs is to rebuild our manufacturing sector with good-paying jobs," he said.
"We cannot continue to sustain the loss of millions of decent-paying jobs that we have seen over the last 20, 30 years, based on trade agreements of which Secretary Clinton has voted for almost every one of those. That has got to change," he said.
Clinton responded saying that she has a "very comprehensive plan" to create more jobs and would focus on strengthening manufacturing in the country.
"So I think you've got to go at this with a sense of how to accomplish the goal we are setting -- more good jobs with rising incomes for people everywhere from inner cities to rural areas to every distressed community in America. And that's exactly what my plan would bring about," she said.
The two also clashed over support for NATO and the Israeli-Palestinian conflict, with Sanders asserting that peace can only be achieved in the region if the Palestinian people are treated with "respect and dignity".
"I believe the United States and the rest of the world have got to work together to help the Palestinian people. That does not make me anti-Israel. That paves the way, I think to an approach that works in the Middle East," he said.
Clinton said as Secretary of State, she held the last three meetings between the president of the Palestinian Authority and the prime minister of Israel.
"I was absolutely focused on what we needed to do to make sure that the Palestinian people had the right to self-government. And I believe that as president I will be able to continue to make progress and get an agreement that will be fair both to the Israelis and the Palestinians without ever, ever undermining Israel's security," she said.
IMAGE: Democratic US presidential candidates Hillary Clinton (L) and Senator Bernie Sanders speak simultaneously during a Democratic debate hosted by CNN and New York One at the Brooklyn Navy Yard in New York. Photograph: Lucas Jackson/ Reuters